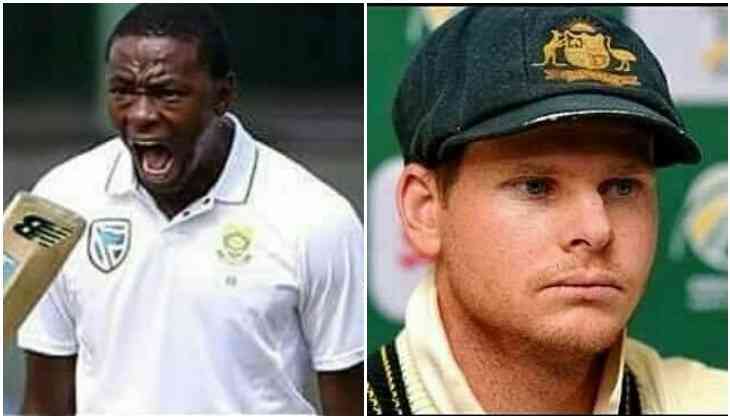 'Aussies are their loving child'
The whole cricket world is criticizing the ball tampering incident done by Australian skipper Steve Smith. Well, the action has been taken and the ICC has put a one-match ban on the cricketer. Even the Australian board has taken the action and removed Steve Smith from the captaincy from last two remaining matches.
However, the activity of ball tampering is a very strong illegal in ICC rule book, but ICC still is very light towards Australian skipper. This act of ICC has put them in the limelight for showing the soft corner towards the Australian.
First, the Indian team bowler Harbhajan Singh slammed ICC for discrimination between his incident and this incident. Harbhajan clearly said that he was banned out for the series, but despite that both the cricketers Steve Smith and Cameron Bancroft have accepted their activity ICC is too cool with them.
Also Read - IPL 2018: Rajasthan Royals in trouble as they lose out on their best batsman Steve Smith; See Video
wow @ICC wow. Great treatment nd FairPlay. No ban for Bancroft with all the evidences whereas 6 of us were banned for excessive appealing in South Africa 2001 without any evidence and Remember Sydney 2008? Not found guilty and banned for 3 matches.different people different rules

— Harbhajan Turbanator (@harbhajan_singh) March 25, 2018
Michael Clarke says Smith should be forgiven because he's a great guy with a heart of gold... unlike all the opposing team members the Aussies have cheered being banned.! 🙄🔫#AussieCheats

— Farhan Akhtar (@FarOutAkhtar) March 26, 2018
Life ban Smith and Bancroft. Scrap the records of Smith

Put all Aussies under scanner.....

Enough is enough with these Aussie rogues....cheating and misbehaviours...#BALLTAMPERING #AussieCheats #ICC #AUSvsSA https://t.co/TsIMCY9k1s

— Srikanth Govind (@Srikanth_Govind) March 25, 2018
....and the memes have started.....#SAvAUS #cheats #SSCricket @NeilManthorp #Bancroft #SteveSmith #Aussies #AussieCheats #GSportza #sandpapergate pic.twitter.com/gjdeUKPV7t

— Glenn Runnalls (@GlennRunnalls) March 24, 2018
Steve Smith,his Team & ALL the management will have to accept that whatever happens in their careers they will all be known for trying to CHEAT the game ... #SAvAUS

— Michael Vaughan (@MichaelVaughan) March 24, 2018
Wasn't his 1st offence either. #sugargate #ashes #aussiecheats pic.twitter.com/T28tmS0LFP

— #McRunnerNZ 🚌🐅 (@ScottMcRod) March 25, 2018
This "confession" & "regret" #BallTampering is so qualified with them saying it didn't change the condition of the ball and the umpires didn't find anything wrong with it. Trying to get away with it "technically" #AussieCheats pic.twitter.com/vG0mcsqB4G

— Yusuf Unjhawala 🇮🇳 (@YusufDFI) March 25, 2018
This is not fare.#AussieCheats pic.twitter.com/F6tkUzLb7m

— നിച്ചു മോൻ (@AbdulNisarM1) March 26, 2018
Spot the difference in these two pics!
Not so jokey and smug now you cheating Aussie tossers!#SAvAUS smith #aussiecheats @CricketAus pic.twitter.com/ITCOr1cX7U

— Tom Pitt (@Toontom68) March 24, 2018
Now the Indian media and Twitter people have also started slamming ICC and cricketers in their hilarious way. Some even have slammed ICC for discrimination in between Kagiso Rabada and Steve Smith, as for black-white theory.
Also Read - Despite Steve Smith's ball tampering incident, South African skipper Faf Du Plessis comes out in support of the cricketer