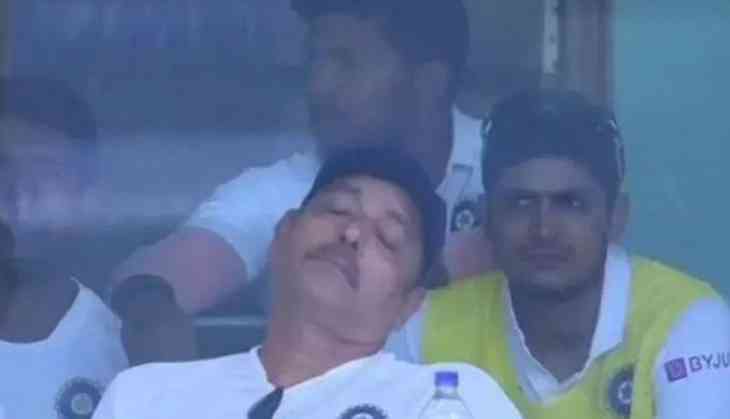 India had a brilliant performance during the three match Test series against South Africa. Where the men in blue stood triumphant with 3-0 win. While the whole nation was singing the praises of India's smashing performance in the series, head coach Ravi Shastri was caught taking a siesta while the match was on.
During the game, Ravi Shastri taking a nap was caught on camera and the clip started making rounds on social media. Nevertheless, netizens did not waste any time and unfolded a meme fest on social media.
When you using your phone at midnight and your dad suddenly enters to your room😂😂😂😂#RaviShastri pic.twitter.com/L9PcL2Qk7N

— B∆G SECURER (@urvik1520) October 22, 2019
Ravi Shastri's situation right now pic.twitter.com/VAiWFqHe0d

— Abu Talha (@WolverineT41148) October 16, 2019
Ravi Shastri: Jab saare wicket gir jaye to mujhe utha dena yaar theke pe jaana hai. 😂😂😂 pic.twitter.com/JFilzBvBVd

— Shahida Noor (@shahida_noor789) October 21, 2019
October 21, 2019
While, Ravi Shastri was enjoying the nap, Shubham Gill, sitting behind the coach, was looking on. Given that it was a sure win game. Ravi Shastri sure had no idea that by the time he woke up, he would be a viral meme.
Earlier, an unposed picture of Indian skipper Virat Kohli erupted a meme fest after BCCI tweeted it and asked the users to caption it.
AlsoRead: Rohit Sharma shatters Don Bradman's long standing record after his double century at Ranchi
AlsoRead: South African cricketer Dean Elgar slammed for criticising Indian food and hotels