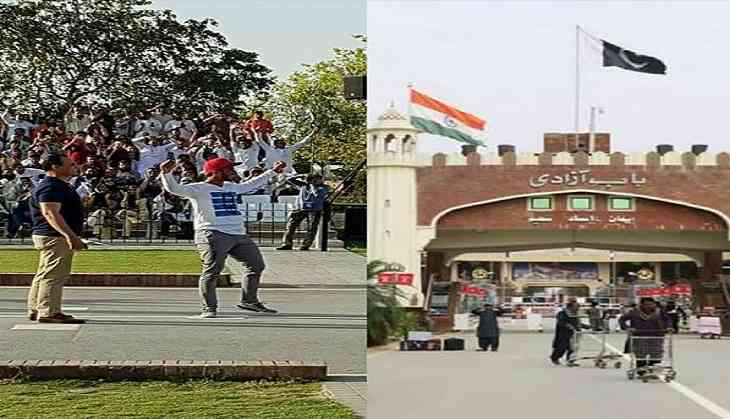 Cricket is always one of the famous game of sports lovers. In India, we have seen the craziness for the game. Recently, the Indian Premier League 2018 has been going on in the country and people have already gone crazy to see the game with full of energy. While talking about the IPL, all countries except Pakistan, playing for a various team in IPL.
But, Indo-Pak cricket match always made the cricket lovers mad to support their favourite team either India or Pakistan. Well, it is clear that one team has to win and the other has to lose the game.
The enthusiasm that we see in the people during the match between India-Pak, the same we see at the Attari-Wagah border. Yes, if you have visited that place the feeling of patriotism definitely emerges in your heart.
As Indian BSF and Pak Rangers tease each other during showing their parade with provocative gestures including tapping their thighs. Have you ever seen any cricketer doing such activity? Yes, a Pak medium pacer Hasan Ali, who had interrupted the daily parade by entering into the arena and shown the aggressive gestures to tease Indian BSF. The video of this activity went viral over the Internet.
Well, Indians can't take this silently and trolled the player brutally that he would definitely think twice before doing it again.
Here's how Indians reacted to it:
Never seen such a childish behavior For God's sake grow up

— Rajaomar (@Rajaomar9) April 21, 2018
IPL should buy him as a cheerleader.

— Tarun Pathania (@TARUN_PATHAN1A) April 22, 2018
🤣🤣🤣🤣🤣 joker joker hi rehte hain, chahe mano ya na mano

— Vansh (@VanshChadha11) April 21, 2018
He must be concentrate on his game otherwise he 'll be remain joker only. Totally chawal. Cricketers are embasidars. He should be remain in his character

— Shahid Afridi (true fan of Lala) (@ShahidA20542726) April 21, 2018
My world leader and pm @narendramodi ji didn't entertain in #London he slapped pak infront of world and exposed terrorist relationship with pak.#ShameOnPak
Watch this 👇 pic.twitter.com/jTEoNh8V7Q

— Raj Tiwari (@rajtiwari09) April 23, 2018
Useless thing.

— Dr. Majid Khan (@dr_majidkhan) April 22, 2018
Bhosdi ke pehle border ka naam to dhang se likh le, it's #Wagahborder not Wahga.
In chutiyon ko #Kashmir chahiye 😂😂😂

— Pradeep Sharma (@PradyTheRover) April 22, 2018
Kuch bhi karlo,IPL me entry Nahi milegi, bhookhe nango ko

— Prashant Iyer (@PrashantIyer15) April 23, 2018
We must say that Indian have trolled him wonderfully that no Pakistani player would repeat it again.
What do you say? Comment here..
Also read: IPL 2018: KXIP trolled SRH player Deepak Hooda on his birthday; his response to the tweet will amaze you