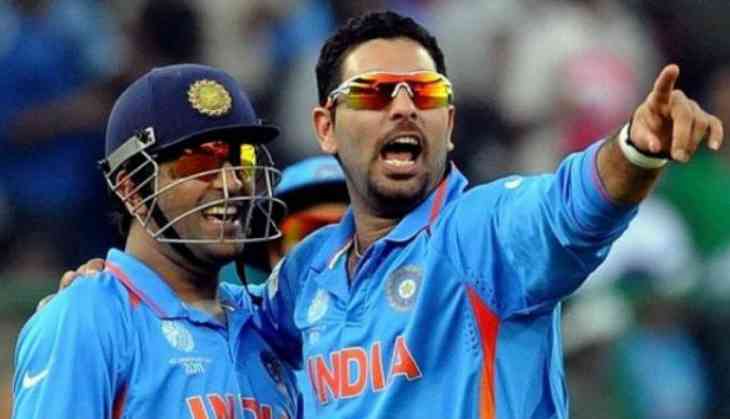 Team is much more important than my 300th ODI: Yuvraj Singh
Flamboyant Indian cricketer Yuvraj Singh , who prepares to make his 300th ODI appearance in his side's Champions Trophy semi-final clash against Bangladesh, on Wednesday said that it is a big achievement for him, adding, the team is much more important for him than any of his personal landmark.
Over his 17-year-career, Yuvraj has battled dips in form, made numerous comebacks, and even survived a cancer.
When quizzed whether he should be considered as a `role` model, Yuvraj said that he would rather love to be called as a `fighter` as he has managed to play many games for India despite going through so many ups and downs.
"I don't know about [being] the role model, but it's a big achievement for me to finish 300 games in my career. It is huge honour. When I started playing for India I was happy just playing one game for India. That would have been a big achievement for me, but it's come a long way. There have been ups and downs, and I am proud of myself. I have come through and still managed to get to 300. At one stage I was thinking if I was going to play another game," Yuvraj said.
Speaking on the eve of his side's semi-final clash against Bangladesh at the Edgbaston Cricket Ground, Yuvraj said that he is not focussing on his 300th game and just looking forward to guide his side to the finals.
"It is a big achievement for me. I am not going to do anything special. I think the team is much more important than my 300th game. We are focussing on our semi-final. I think Bangladesh have been doing really well in the tournament. We want to contribute towards our plans. We have to win this match at any cost. I am not focussing on my 300th game," he said.
Reflecting on his numerous comebacks, Yuvraj admitted that although it is not difficult to play for India, sustaining is tough. He further said that his "never giving it up" attitude is his biggest attribute.
"To play for India is not that difficult, but to sustain in it is tough. I think the biggest quality in me would be never to give up. Keep pushing no matter what obstacles come in your life. That is what I can give to the younger guys: never back down, always keep on working the same way whether you are having a good time or a bad time, be consistent and be persistent. Focus on the process of the game," Yuvraj pointed out.
When asked to select three memorable matches in his ODI career, Yuvraj rated the 2011 World Cup quarter-final against Australia (57 and 2/44) as his best, followed by 84 runs he made in his very second ODI against Australia in Nairobi in 2000.
Earlier, the Virat Kohli-led side paved their way to the last four after registering an eight-wicket win over top-ranked South Africa in a virtual quarter-final clash at the Kennington Oval on Sunday.
The Men in Blue will head into the semi-final clash as a favourite, after topping the Group B table with two comprehensive wins.
-ANI