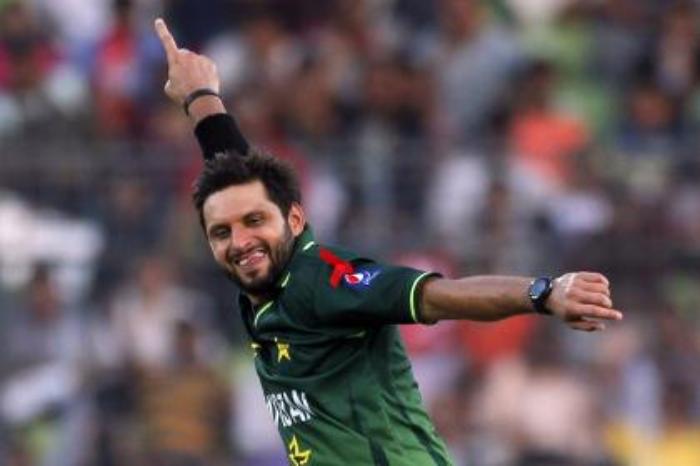 Pakistani T20 skipper Shahid Afridi had earlier declared that the world T20 in India would be his last tournament in international cricket.
However, the all rounder is now reconsidering his decision amid pleas from his family and friends to continue playing.
Pakistan play their opening match of the tournament against India next month on March 19.
Pakistan T20 skipper Shahid Afridi has revealed that he is reconsidering his decision to retire from the shortest format of the game at the end of the World T20 in India amidst 'huge pressure' from his family and friends.
The 35-year-old, who plays only T20 internationals, had announced his intention to retire from the international cricket following the conclusion of the 2015 World Cup.
Afridi revealed that he had been facing immense pressure from his family and friends to reconsider his decision to bid adieu to cricket.
"For a while now there is a lot of pressure from my family, a lot of pressure from my friends, including my elders, who say there is no need for me to retire from Twenty20. That is a huge pressure. For now, in truth, I am focusing only on the World Cup. That is a huge challenge for me," the flamboyant all-rounder was quoted as saying by ESPNcricinfo.
Commenting on his health, Afridi said that he was feeling absolutely fit at the moment, insisting that he still has a lot of energy to play.
He further said that he would take his final call on the matter after the conclusion of next month's T20 pinnacle event, with Pakistan playing their opening match against India on March 19.
"First I want to see where Pakistan stand in the World Cup. Whether I am capable of taking the team forward on the back of my performances. I want to check where I am standing myself. As far as playing goes my fitness is zabardast (awesome). Energy is also there. I can play cricket. But I would be able to tell things clearly after the World Twenty20," he added.
The skipper, who appeared in all five editions of the pinnacle event for Pakistan, had led his side to World T20 glory in 2009 in England.
Afridi won 16 matches and lost 19 in his 35 games as captain for Pakistan.
ANI