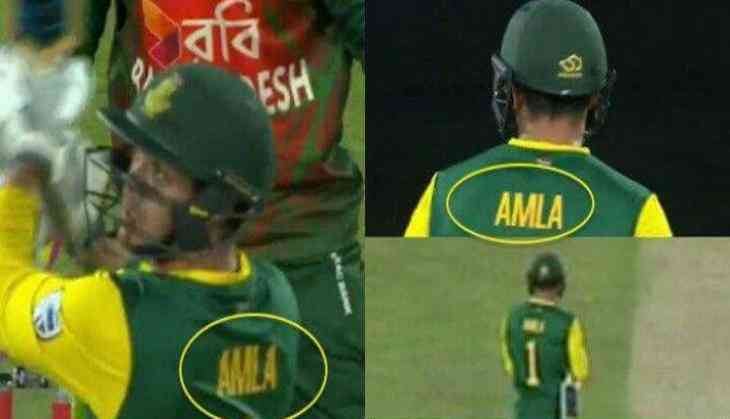 Hashim Amla is considered as one of the most explosive batters of all time in all the formats of a cricket match. So what will happen if you see two Hashim Amlas at the same cricket ground?
Well, the fans of cricket and Hashim Amla got to watch such an exceptional moment when South African player Quinton de Kock came for opening in the first T20 International match against Bangladesh along with Hashim Amla. For a moment the fans on the ground were shocked when they saw 'Two Amla' approaching the cricket ground. Then after a few seconds, they realised that the second Amla on the ground looks more like Quinton de Kock.
After thrashing Bangladesh in Test and the ODI series, the South African team was ready to repeat their performance in the T20I. Winning the toss, the African team preferred to bat first and then Hashim Amla and 'Hashim Amla (Quinton de Kock)' came to bat. After seeing two Amlas on the ground, the crowd went mad and the commentators had to clarify their mistake by saying that the second Amla is de Kock. The reason why Quinton was wearing Amla jersey is that the cricketer has lost his jersey that's why he opts to wear Amla's jersey.
Also Read: Dilip Vengsarkar selected Virat Kohli in Indian team and got fired; here is what happened
Once the news broke out about two Amla on the cricket ground the Twitter flooded with jokes on the incident.
I'm late, why is de Kock wearing Amla's jersey?

— Nhlanhla Ⓜabaso (@_NhlanhlaMabaso) October 26, 2017
#SAvBAN de kock's jersey is allegedly been stolen...i mean by who how like it doesn't make sense

— Theo_bae (@Theodrinephala2) October 26, 2017
Amla is Out. But still batting.😅
(de Kock playing with Amla' jersey)#SAvBAN

— Tom Chandler ⚓️ (@SrJ1911) October 26, 2017
De Kock is wearing jersey number 1, I thought that was Amla's number #SSCricket #SAvBAN

— Lucky Sizwe (@Luckybiyela) October 26, 2017
Two Amla's'batting... For a minute I thought Amla was left handed lol. De Kock is wearing Amla jersey.

— Mpho Mokoena (@fussball21) October 26, 2017