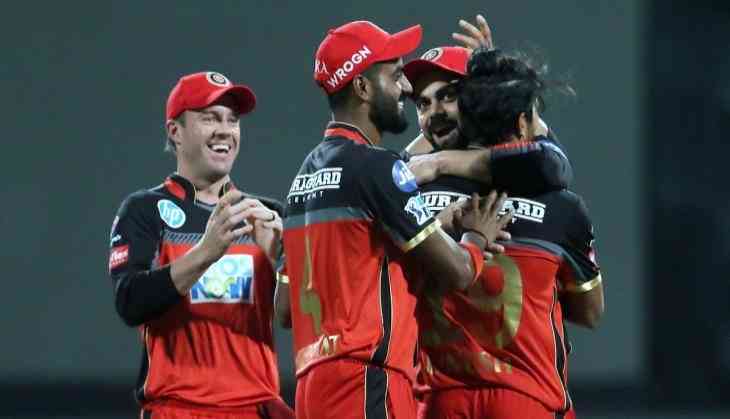 The 31st match of the Indian Premier League season 11 was a shoulder to shoulder fight between Virat Kohli's Royal Challengers Bangalore and Rohit Sharma's Mumbai Indians. Both Virat Kohli and Rohit Sharma are the two struggling captains of the ongoing Indian Premier League. This match was a do or die for them. Well, RCB played well and kept their existence in the tournament alive by defeating Mumbai Indians by 14 runs.
After losing the toss RCB came first to bat and set a target of 168 runs for MI. Well, MI tried well to chase the score but failed and lost this match too by 14 runs.
RCB's Manan Vohra and Quinton de Kock came to open for the team. Where Quinon failed to last for long, Vohra played well and made 45 runs. Brendon McCullum made 37 runs while team skipper Virat Kohli chased 32 runs. Speaking about Mumbai Indians bowlers, Hardik Pandya took 3 wickets of RCB.
Also read: IPL 2018: Du Plessis praises his skipper MS Dhoni, see what he said about CSK captain
Mumbai Indian's Suryakumar Yadav and Ishan Kishan came to open against RCB but both left the ground too soon. Talking about the performance, JP Duminy and Krunal Pandya scored 23 runs each while Hardik Pandya completed his half-century. But failed to chase the target and lost the match. Well, Mumbai Indian's Tim Southee, Umesh Yadav and Mohammed Siraj took 2 wickets each of RCB.
Here's the complete scoreboard of the RCB vs MI:
Mumbai Indians Innings (Run Rate: 7.65)
Batsmen
Runs
Balls
SR
4s
6s
Suryakumar Yadav
lbw Umesh Yadav
9
9
100.00
2
0
Ishan Kishan
b Tim Southee
0
1
0.00
0
0
JP Duminy
run out (Umesh Yadav)
23
29
79.31
3
0
Rohit Sharma
c Quinton de Kock b Umesh Yadav
0
1
0.00
0
0
Kieron Pollard
c Quinton de Kock b Mohammed Siraj
13
13
100.00
2
0
Hardik Pandya
c Virat Kohli b Tim Southee
50
42
119.04
5
1
Krunal Pandya
c Mandeep Singh b Mohammed Siraj
23
19
121.05
1
1
Ben Cutting
NOT OUT
12
6
200.00
1
1
Mitchell McClenaghan
NOT OUT
0
0
0.00
0
0
Extras
(nb 0, w 18, b 1, lb 4, pen 0)
23
Total
(7 wickets; 20 overs)
153
Bowler
O
R
W
Econ
Dots
Tim Southee
4
25
2
6.25
14
Umesh Yadav
4
29
2
7.25
11
Mohammed Siraj
4
28
2
7.00
7
Yuzvendra Chahal
4
23
0
5.75
14
Washington Sundar
1
15
0
15.00
0
Colin de Grandhomme
3
28
0
9.33

7
Royal Challengers Bangalore Innings (Run Rate: 8.35)
Batsmen
Runs
Balls
SR
4s
6s
Manan Vohra
lbw Mayank Markande
45
31
145.16
2
4
Quinton de Kock
c Rohit Sharma b Mitchell McClenaghan
7
13
53.84
1
0
Brendon McCullum
run out (Hardik Pandya)
37
25
148.00
4
2
Virat Kohli
c Kieron Pollard b Hardik Pandya
32
26
123.07
2
1
Mandeep Singh
c Suryakumar Yadav b Hardik Pandya
14
10
140.00
1
1
Colin de Grandhomme
NOT OUT
23
10
230.00
0
3
Washington Sundar
c Rohit Sharma b Hardik Pandya
1
3
33.33
0
0
Tim Southee
c Ben Cutting b Jasprit Bumrah
1
2
50.00
0
0
Umesh Yadav
NOT OUT
1
2
50.00
0
0
Extras
(nb 2, w 1, b 1, lb 2, pen 0)
6
Total
(7 wickets; 20 overs)
167
Bowler
O
R
W
Econ
Dots
JP Duminy
2
28
0
14.00
5
Mitchell McClenaghan
4
34
1
8.50
13
Jasprit Bumrah
4
22
1
5.50
9
Krunal Pandya
4
24
0
6.00
11
Mayank Markande
3
28
1
9.33
7
Hardik Pandya
3
28
3
9.33
8