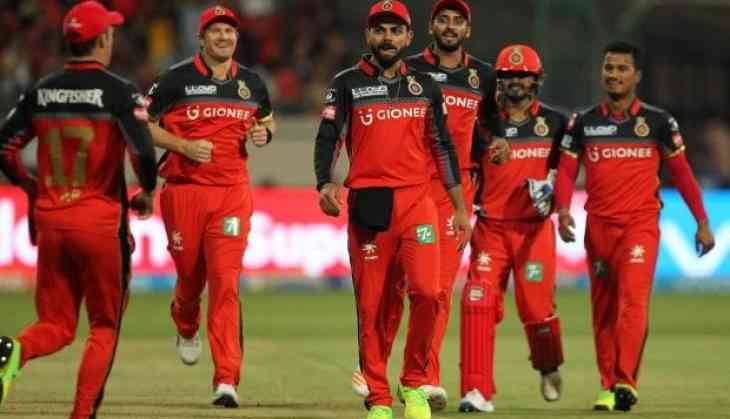 Royal Challengers Bangalore
RCB is believed to be the strongest team of IPL but despite having legendary cricketer Virat Kohli and AB De Villiers the team didn't win any tournament till now. Now in the 11th season, people expected so much from the team and after having some changes fans thought that this time the team will make a big impact.
However, till now again the team has failed to impress their audience and they have lost their all three matches besides winning against Kings XI Punjab. Recently RCB lost their match against MI in despite their skipper Virat did a great batting to save his team but he failed.
Also Read - RCB vs MI, IPL 2018: Angry Virat Kohli says, 'I don't like wearing this orange cap, this really doesn't matter to me'
RCB or HAARCB? #MIvsRCB @mipaltan

— Sandesh (@g_sandesh_) April 17, 2018
Jab se Vijay Mallaya Bhaaga hai tab se #RCB ki haalat Kharab hi Chal Rhi h😋

Ghar Aaja Pardesi Teri Team Pukare reeee... Laut Aao Mallaya😂😋#RCBvsMI #MIvRCB #ViratKohli #RohitSharma

— Rajasthan Ke Nawaab (@nawaabshahab) April 17, 2018
New IPL Season, but Old Story Continues For #RCB #DD #

— Roshan (@Imroshanjha) April 17, 2018
Next Year Virat Kohli Should Handover The RTM To Umesh Yadav, Leave #RCB& Opt To Go For Auction. Any Of The 7 Teams Buying Him Will Become The Winner. We're Tired Of Watching His Team Lose Despite Him Being The Highest Run Scorer In IPL History.🙏#MIvRCB #MIvsRCB #RCBvMI #RCBvsMI

— Sir Ravindra Jadeja (@SirJadeja) April 17, 2018
Team player #Kohli - "I don't feel like wearing the #orangecap right now because it doesn't really matter".. Hope his teammates stand up and pull their weight too.. #Ipl2018 #RCB #ViratKohli

— Kaushik LM (@LMKMovieManiac) April 18, 2018
You know what's the hardest job in the world? Being an #RCB fan.

I still love you Bangalore. I hope you can shake it off and focus on the next game. @RCBTweets #MIvRCB

— Nikhil Chinapa (@nikhilchinapa) April 18, 2018
One hand the fans are praising the skipper Virat Kohli for staying a long for RCB and on another hand, some section is criticizing the team for not playing good enough. Now the users are so angry and saying that since Vijay Mallya left the team the performance of RCB has gone worst.
However, the users also targeted the other team Delhi Daredevils for the worst performance and said that they both team can't win any IPL.
Also Read - IPL 2018: What KXIP mentor Virender Sehwag did for his 93-year-old fan on social media will melt your heart