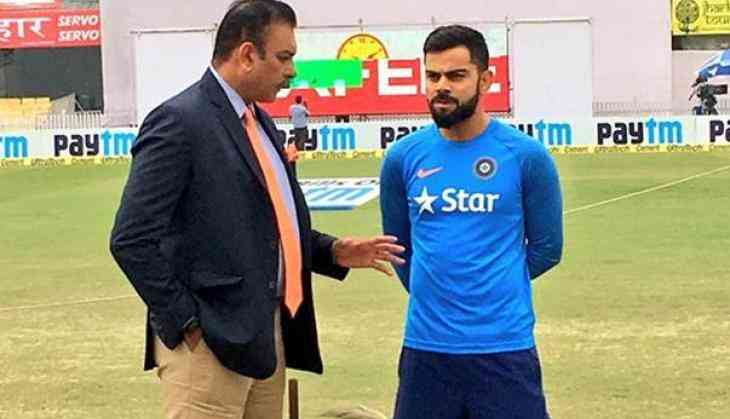 Indian cricket team head coach Ravi Shastri heaped praises on captain Virat Kohli for scripting the historic Test series victory on the Australian soil on Monday.
Ranked as world number one, India lifted the Border Gavaskar Trophy after clinching the four-Test series 2-1. The hosts Australia were bundled out for 300 on the fourth day of the fourth Test, which also forced them to follow-on at home for the first time in 30 years.
"Past is history future is a mystery. We have won today, I like to live in the present and salute my captain (Virat Kohli) for being the captain of the team that beat Australia for the first time in Australia in a series," the head coach said in a post-match press conference.
"He is been around the globe captaining the side. I don't think anyone plays Test match cricket with more passion than he does. At least I don't see any other international captain coming close to him on the field. He is very expressive which is different from other personalities. He is someone in your face that rubs up all the youngsters who are watching the game in India, his entire teammates that watch him want to emulate him and to believe that they can be someone like him and go out there and strive for excellence," he added.
The head coach while acknowledging past mistakes in South Africa and England, further said that for Australia tour the team was preparing over the last 12 months. The team as a whole was experimenting with combinations and found what suited best. As an outcome, India didn't repeat their errors as they focused on their goal collectively.
"This tour didn't start in Australia. This tour started 12 months ago in South Africa where we said 'there is a certain brand of cricket we are going to play, we are going to experiment with combinations, find out what suits team the best and take it forward from there.' So we learned a lot in South Africa and so in England," Shastri said.
"We made mistakes, which we didn't make in this series. We learned from those mistakes. The most satisfying part was it was a team that was working towards this goal over the last 12 months. I will tell you how satisfying this is for me. World Cup 1983, World Championship 1985...this is as big or even bigger because this is in the truest format of the game, that is Test cricket which is meant to be the toughest," the head coach added.
Appreciating Shastri's words, a delighted Kohli added that the moment was more emotional for him as playing on Australian soil is difficult. "We badly wanted to win a series away from home. We as a team feel absolutely complete now. We worked on rectifying the mistakes. We stuck to good intentions of doing things for the team."
"We want to spread the message that Test Cricket is the most valued format of the game. It improves you as a person. As long as the purest form of cricket stays alive, the game will stay alive," captain concluded.
-ANI