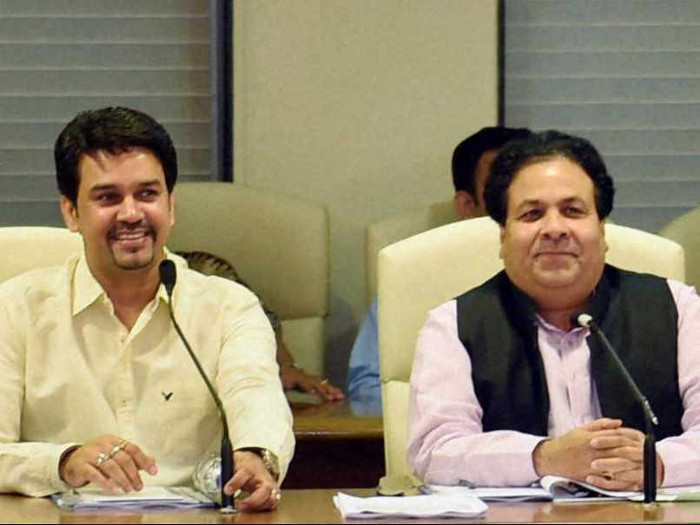 Reacting to Shahryar Khan's recent statement of boycotting India in ICC tournaments if they refused to play the proposed series against Pakistan in December, IPL chairman Rajeev Shukla said PCB will have to bear the brunt in that case.
Pakistan Cricket Board chairman Shahryar was on 26 September quoted as saying that "if the Indian Cricket Board officially backs out of the series in December, then we have the option of boycotting all matches against them in ICC and ACC events".
"Is this statement of Shahryar Khan a threat to the BCCI or the ICC?," asked Shukla.
"PCB is bound by the rules of the ICC, if it backs out it will have to bear the fine," he said at the 'Hindustan Shikhar Samagam' on 27 September.
Stating that no country wants to play in Pakistan, Shukla has asked the PCB if they could guarantee full security to the Indian players.
"I want to make an appeal...can you (PCB) guarantee the security to the players in its country? Because of security concerns, leave alone England and Australia, even Bangladesh team does not want to go there," Shukla said.
Refusing there is any possibility of a cricket series in December, Shukla said, "After finalising the cricket series with Pakistan, we will go to the Government for permission. But before that there are a number of issues that have to be resolved, so there is no chance of a series in December."
Meanwhile, Shukla maintained that he was not in the race for the post of the BCCI president.
Shukla applauded the contribution of former India openers -- Virender Sehwag and Gautam Gambhir -- who were also present on the occasion. In fact, he went on to say that in some ways he considered Sehwag better that even Sachin Tendulkar.
Sehwag expressed pleasure over the selection of Ganguly as the chairman of Bengal Cricket Association, saying it is better if players take over the reins of associations as they will be able to understand things better.
On Shukla's suggestion for him to enter politics, Sehwag said, "I've been working hard on cricket in the last 15 years and can't do politics right now. Will think about it later."
He added in a lighter vein: "The option of Rajya Sabha is better. As you have got Sachin there you can do the same for me also."
Gambhir, however, had different views. "I think it would be better if we contest and reach parliament so that we know whether people want to see us there or not."
-PTI