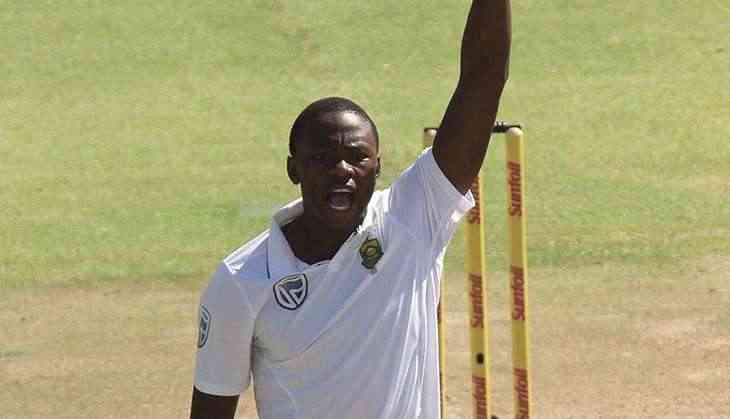 South African pacer Kagiso Rabada has been suspended for next week's Trent Bridge Test after he was sanctioned by the International Cricket Council (ICC) for giving Ben Stokes a send-off in the ongoing first Test at Lord's.
During the opening day's play on Thursday, Rabada was found guilty of breaching article 2.1.7 of the ICC Code of Conduct for Player and Player Support Personnel, which relates to "using language, actions or gestures which disparage or which could provoke an aggressive reaction from a batsman upon his/her dismissal during an International Match".
Thursday's incident related to Rabada using inappropriate language after dismissing Stokes, which were audible over the stump microphones and also resulted in the batsman to turn before walking off the field.
As per ESPNcricinfo, the right-arm pacer was fined 15 percent of his match fee and handed one demerit point for this incident, in which he told Stokes to "f**k ***" after dismissing him for 56 during England's first innings.
As the South African had received a 50 percent fine and three demerit points in the fourth ODI against Sri Lanka in Cape Town earlier this year, with the addition of this one demerit point, he has reached the threshold of four demerit points, which, pursuant to article 7.6 of the Code, have now been converted into two suspension points. Two suspension points equate to a ban from one Test or two ODIs or two T20Is, whatever comes first for the player.
Rabada admitted the offence on Friday afternoon and accepted the sanction proposed by Jeff Crowe of the Emirates Elite Panel of ICC Match Referees and, as such, there was no need for a formal hearing.
The charges were leveled by on-field umpires Paul Reiffel and S.Ravi, third umpire Simon Fry and fourth official Rob Bailey.
-ANI