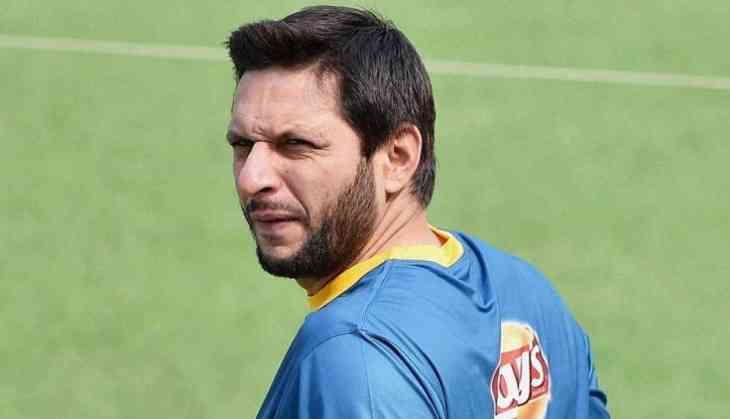 Pakistani cricketer, Shahid Afridi has huge fan followers in his home country as well as in India. The Pakistani batsman cum bowler is now busy in Pakistan Super League. The cricketer is playing for Karachi Kings in the league and giving us a heartwarming performance in the 2nd match of PSL 2018 at Dubai International Stadium.
On Friday, The Karachi Kings scored 149 runs against Quetta Gladiators. The team Gladiators had stunning batsmen like Kevin Pieterson, Shane Watson, Asad Shakeef that the made the match more interesting. Unfortunately, Team Karachi defeated the Gladiators by 19 runs.
The excitement went high when Shahid Afridi took a brilliant catch in the 13th over. Umar Amin was on strike and Afridi got a delivery that gave him a chance to hit a big shot. The height of the shot was much more than the distance and this was the moment when Afridi came into the picture.
Shahid Afridi was standing just near the boundary line and in a perfect manner, he took the catch. This was the complexed catch and has least chances of success. However, he jumped, stretched his hand, pulled the ball again & finally threw it back in time.
This video left us stunned and surprised.
Shahid Afridi is truly an ageless cricketer. 21 years after his debut he is still finding ways to entertain the crowd. The catch by him today, without exaggeration, is the greatest effort by a Pakistani fielder on the boundary. He's the real Karachi King! pic.twitter.com/JRBHPIZvMA

— Mazher Arshad (@MazherArshad) February 23, 2018
This extraordinary catch of Shahid Afridi won the hearts of people and Twitter was flooded with praises and love for the Pakistani cricketer.
What a wonderful catch..

— DILSHAN (@IAmMrHumorist) February 23, 2018
Mazhar bhai falling in love with afridi at the last stage of his carre

— Newton of Karachi (@newtonofkarachi) February 23, 2018
Yesterday Sangakkara with half century, Today Afridi with a stunning boundary catch. Age is just a number for these cricketers.

— Daniel Alexander (@daniel86cricket) February 23, 2018
Catch of the Pakistan 👌😘😘😘😘😘😘😘😘😘.

— Gulzar Nayik (@naikgulzar) February 23, 2018