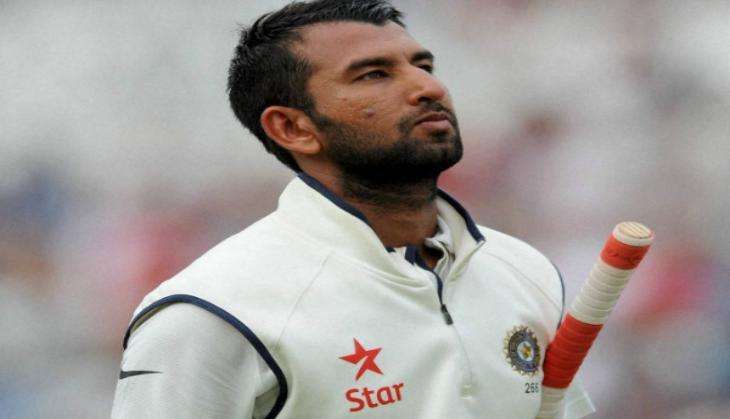 Ahead of the second Test against West Indies, Indian middle-order batsman Cheteshwar Pujara has brushed aside concerns about his form, saying he is not worried as long as he is contributing well to the team's success.
Pujara, however, admitted that he played some bad shots in the opening match and, therefore, he is looking forward to work on his shortcomings ahead of the next Test.
"Not really worried, overall I have been batting well. At times, you have to be realistic and see the contribution rather than worrying about whether I am getting hundreds or big double hundreds. It's always about contributing to the team's success. Overall, I feel I am batting well without worrying too much about it.
And at the same time, I realised I played a bad shot in the last Test match when I was looking good. I did the hard work in the first session when the ball was moving. Obviously, I played a bad shot and there are things to learn from that particular game. Overall the team did well and I am really happy with the way things are going," Pujara, who got dismissed for mere 16 runs in the Antigua Test, said.
Downplaying the concerns about the wicket in Jamaica, the 28-year-old believes that India would surely whitewash the series if they play to their full potential.
"I haven't played a game here, but looking at the wicket at present it is difficult to predict what kind of pitch it will be. Overall, as a team, we have been playing good cricket and that is what we will look to do. We won't be worried too much about the wicket and I think if we play to our potential there is a good chance of winning the series," he added.
Stating that his side is fully charged up for the upcoming match, Pujara insisted they are looking at one game at a time in their quest to become the number one Test team.
"The first aim is to win the series and obviously we would like to win all the Test matches. But one Test match at a time and we will be focussing on winning this Test. We have a positive environment and all the guys are charged up for this test match.
We have a simple goal, we want to win it. So, that's the target currently, starting from the second Test, but the goal is to win the series. Going ahead we want to be the number one test team in the world," said Pujara.
Pujara also expressed his views on his side's biggest win outside Asia by an innings and 92 runs that also saw the visitors take one-nil lead in the four-match series against the Caribbean side.
Lavishing praise on Ravichandran Ashwin and Amit Mishra's performance in the lower-order, Pujara called on his side to continue the same momentum in the remaining Tests as well.
"We just need to continue the things which we have been doing well. There have been many partnerships in the last game. In particular, Ashwin batted well and Amit Mishra did well. So, even the top-order is doing well and there are contributions from the lower-order, which is a positive sign from the team," he said.
Ashwin smashed a blistering knock of 113 runs besides claiming a seven-wicket haul while Mishra contributed modest 53 runs in his side's innings.
The two sides will play their next match at Sabina Park in Jamaica from 30 July.