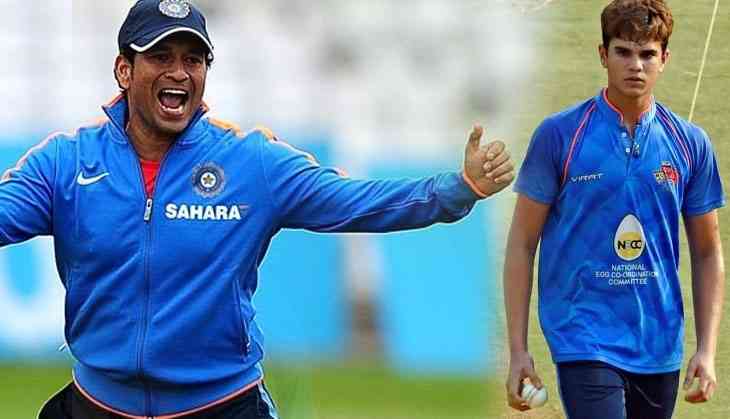 Issues of nepotism highlighted once again when the 18-year-old Arjun Tendulkar, the son of legendary of Indian Cricket Sachin Tendulkar, has been selected in the India Under-19 squad for two four-day matches in Sri Lanka in July.
Arjun was a part of the Mumbai Under-19 squad last year in the Cooch Behar Trophy where he scalped 18 wickets.
The 18-year-old Delhi wicketkeeper-batsman Anuj Rawat will lead the four-day squad, who had scored two half-centuries, including one on debut, in as many matches for Delhi during the 2017-18 Ranji Trophy.
Seriously why so much negativity around his selection ? If he doesn't deserve to be there , he will get dropped just like other players ( son of) famous cricketers.#ArjunTendulkar pic.twitter.com/9fP2SKGPtV

— Prashant Pareek (@prashan23S) June 7, 2018
I bet those who are saying Arjun is selected due to nepotism don't know how he performed . If nepotism works he would be the captain of U19 till now and would have played IPL . Don't compare him with Sachin. He is simply the greatest ever 🙏 #ArjunTendulkar #SachinTendulkar

— Tarun (@Pralaynaath) June 7, 2018
Everyone will say it is nepotism
But no one will say he took 18 wickets in his last 9 matches#ArjunTendulkar pic.twitter.com/J3adIrpTzR

— Durgesh Pandey (@imdurgeshpandey) June 8, 2018
Steve Waugh's son made it to Australia's U19 team. Ntini's son got selected to play for SA U19. Cricket fans over there never criticised that. Only in India, we have nepotism charges when a former cricketer's son gets selected. Go get a life guys.
#ArjunTendulkar

— Vignesh A P (@respondvignesh) June 7, 2018
#ArjunTendulkar is an average bowler. He runs, and delivers the ball with a weird action. Thanks to his father's recommendations, he is now part of the U-19 squad- and hundreds of more talented bowlers get ignored.

Remember, there was someone called Rohan Gavaskar.

— Ganeshan Iyer (@ganeshan_iyer) June 7, 2018
Squad for four-day games: Anuj Rawat (Captain & WK), Atharva Taide, Devdutt Padikkal, Aryan Juyal (VC & WK), Yash Rathod, Ayush Badoni, Sameer Choudhary, Siddharth Desai, Harsh Tyagi, Y.D. Mangwani, Arjun Tendulkar, Nehal Wadhera, Akash Pande, Mohit Jangra, Pawan Shah.
Squad for One-dayers: Aryan Juyal (Captain & WK), Anuj Rawat (WK), Devdutt Padikkal, Atharva Taide, Yash Rathod, Ayush Badoni, Sameer Choudhary, Siddharth Desai, Harsh Tyagi, Y.D. Mangwani, Ajay Devgaud, Y. Jaiswal, Mohit Jangra, Akash Pande, Pawan Shah.
Also Read : Tendulkar breaks into Indian Under-19 squad for SriLanka tour