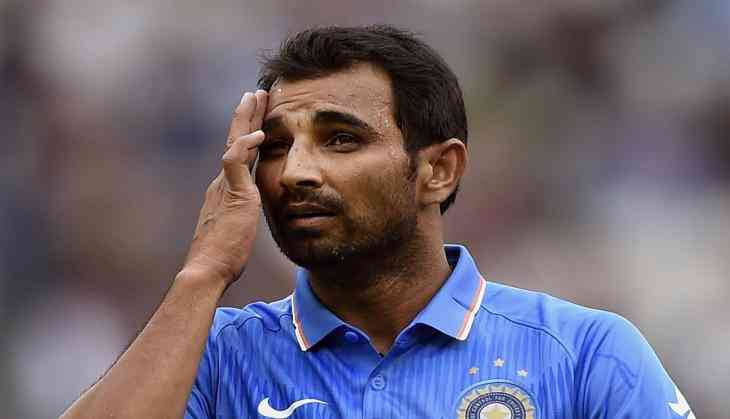 Indian cricket team's fastest bowler Mohammad Shami has landed into a controversy when his wife Hasin Jahan leaked his chats on social media, as evidence and accused him of having multiple affairs and his family members of trying to kill her.
This was a shocking revelation done by Hasin after their 4 years or marriage. The duo got married in 2014 and has a three-year-old daughter Aaira.
Also read: Mohammed Shami's wife Hasin Jahan says she found condoms in cricketer's car; alleges family threaten to kill her
Hasin accused Shami of mentally and physically torturing her and alleged that his family tried to kill her since 2 years. She is to take a legal action against him.
After multiple attempts, Hasin got accessed to her husband's locked phone and got to know about his extra-marital affairs with multiple girls. Hasin also claimed that she found a condom hidden in his BMW car.
However, Twitterati has got another topic to make fun of and they are trolling him for his affair got disclosed. While some feel the Hasin's account from which the post was made is hacked. Here are what Twitterati has to tell about Shami's love controversy.
Iske to L lag gaye....#Shammi #Shami pic.twitter.com/DaZaCtGuyb

— yogi baba (@yogi_yogibaba) March 7, 2018
What the hell happened to Mohd Shami's wife? Is her Facebook account hacked?? 😳 pic.twitter.com/FowWK6maN3

— Hemant Abhishek (@hemant10) March 6, 2018
Who did this?😹😂#HasinJahan #Shami pic.twitter.com/QDV1Ij0vcq

— Dr. Dang (@Trozanmind) March 7, 2018
Shami @MdShami11 when you had the option to have 3 wives why do you indulge in extramarital affairs. #shami

— Assaduddin Owaisi (@assadowaisi) March 7, 2018
You shameless Shami @MdShami11 you are in a big trouble .. you cannot give #tripletalaq because that is illegal but you surely can go to jail for trying to do that 😂😂

— Intekhab (@FollowIntekhab) March 7, 2018
The reason #Shami doesn't bowl his out swingers that well these days is because he is swinging himself a lot.#HasinJahan

— Subhashish Dhar (@subhashish06) March 7, 2018
3 words

Why shami why?

— Farheen👑🔥 (@imFarheenRizvi) March 6, 2018
Shami was out of the form recently. Now he'll be out of the house forever. 😹

— Astronaut 🐒 (@TheRobustRascal) March 7, 2018
Shami bhai be like, ek se mera kya hoga... Roj roj masur ki daal nahi chalegi.. Butter chicken and kabab chahiye 😹😹

— ⓝ - ⓣⓔⓞⓣⓘⓐ (@Ni_Teotia) March 7, 2018