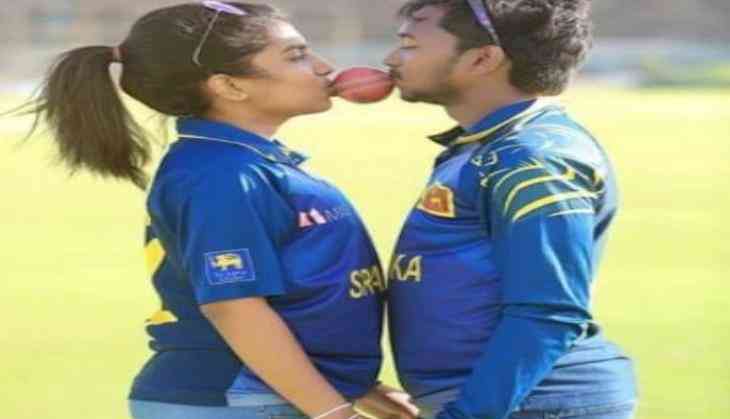 Akila Dananjaya (Twitter)
In a responsibility to play for the nation, there is a Sri Lankan young off-spinner bowler who got married on 23 August and next day to his marriage he has not only played for his nation but displayed a stupendous performance with the ball during second ODI between Sri Lanka and India played at Pallekele.
The 23-year-old player who got married to his sweetheart Nethali Tekshini at Ramadia Ran Mal Holiday Resort put men in blue in trouble after taking 6 wickets in just 4 overs.
Dream spell from young Akila Dhananjaya, joined the team last evening directly after his wedding #SLVIND #Cricket pic.twitter.com/537XCaHcvl

— Azzam Ameen (@AzzamAmeen) August 24, 2017
Though, the efforts by Dananjaya went in vain after MS Dhoni and pacer Bhuvneshwar Kumar has registered a record hundred-run partnership for the eighth wicket to help the visitors secure a 3-wicket win against the hosts Sri Lanka.
Let's have a look on the 6 wickets taken by Dananjaya:
1.) Rohit Sharma (109-1, 15.3 Over)
2.) Kedar Jadhav (114-3, 17.1 Over)
3.) Virat Kohli (118-4, 17.3 Over)
4.) KL Rahul (119-5, 17.5 Over)
5.) Hardik Pandya (121-6, 19.3 Over)
6.) Axar Patel (131-7, 21.5 Over)
Interestingly, Dananjaya's wife was also witnessing his husband's performance in the match.
#2ndODI #SLvIND
Great start of married life for Akila Dananjaya pic.twitter.com/sMoTZBlrpZ

— Cricket Trolls (@MycricketTrolls) August 24, 2017