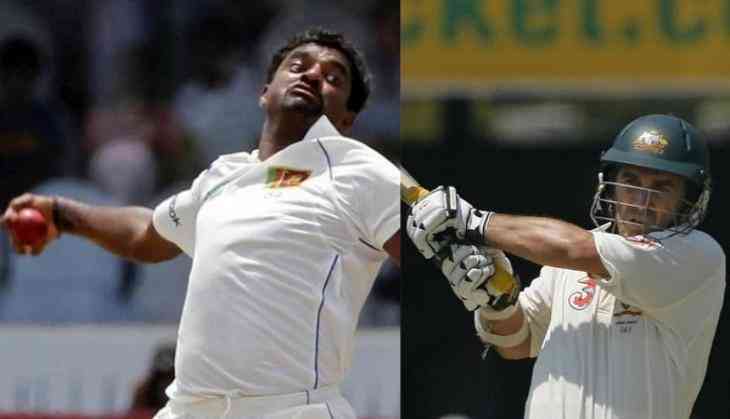 Former Australian cricketer Justin Langer has revealed that legendary off-spinner Muttiah Muralitharan was the most difficult bowler he faced in his cricketing career.
"I'd say Muralitharan from Sri Lanka," cricket.com.au quoted Langer as saying while he revealed some of the fiercest bowlers he faced during his Test career.
"That might surprise some, being a spinner, but he gave me more sleepless nights than anyone."
"He had this really unusual action - which is very well-documented but it was like a magician; it came out of his hand, and my mind knew he was bowling off-spinners but because of the way he released the ball it looked like he was bowling leg-spinners," he added.
The current Western Australia coach, who played eight Tests against Sri Lanka and averaged 35.85 against the sub-continental nation, further insisted that it was an absolute nightmare" for him to face Muralitharan, who took 800 wickets through his record-breaking Test career, because of his accuracy.
"It was an absolute nightmare to be honest; he was so accurate, you couldn't score off him, he'd spin it a mile and he was also an unbelievable competitor," the former left-handed opener said.
However, one would be amazed knowing that out of the eight Tests Langer played against Sri Lanka, Muralitharan played in six and managed to remove the feisty West Australian only twice (for scores of seven and 32).
Langer, who played 105 Tests between 1993 and 2007, further said that legendary Pakistan pacer Wasim Akram was the best pacemen he came up against.
"The best quick bowler (I faced) was Wasim Akram from Pakistan - he was a genius," Langer added. "And probably Shoaib Akhtar was the fastest."
Langer, who made his Test debut against West Indies in 1993, scored 7,696 runs at an average of 45.27, including 23 centuries and 30 fifties. He also played 8 ODIs for Australia in which scored just 160 runs.
--ANI