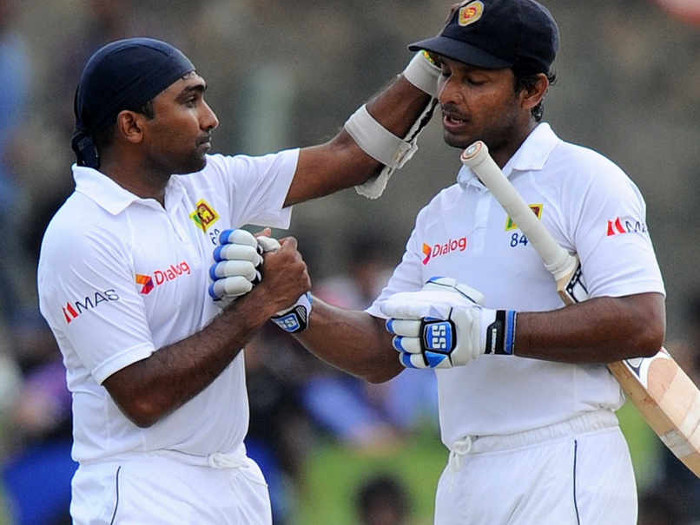 Former Sri Lanka captain Mahela Jayawardene has paid a fitting tribute to the retiring Kumar Sangakkara, describing him as the "greatest batsman" to have emerged from the island nation since their entry into international cricket.
Sangakkara, who has 12,000 plus Test runs and 14,000 plus runs in ODIs, will retire from international cricket after playing the first two Tests against India in the three-match series starting Wednesday.
"Let me put it straight. Kumar Sangakkara is the best batsman that Sri Lanka has ever produced. Aravinda De Silva will always be a sentimental favourite for most of the Sri Lankans including me but numbers alone make Kumar a phenomenal achiever. More than 60 international centuries (38 in Tests and 25 ODIs). Look at those staggering numbers," former captain Jayawardene paid rich tributes to his long-time teammate in an exclusive interview to PTI.
Jayawardene, who himself has close to 25,000 international runs, said that Sangakkara pushed the boundaries in real sense and has set imposing targets for the next generation of Lankan cricketers.
"Kumar's greatness was his ability to score runs against any attack in all types of conditions. He really pushed his boundaries and have set some imposing targets for the next generation of cricketers.
"In any international sport, there are only a few who attained greatness in every aspect, whether for your performance on the field or your conduct off it. Kumar was one such player. The void left by him will take some time to fill.
I believe Sri Lankan cricket as a whole was blessed to have him. I consider myself lucky to have played alongside a champion performer like Kumar," said
While he was emotional about the farewell of his closest friend (they run a restaurant together in Colombo -- Ministry of Crabs), Jaywardene did not forget to mention that India will have an "upperhand" in the upcoming series.
"It will be a competitive series but I guess India will have an upperhand as they have a more or less steady team. The Sri Lanka team on the other hand is going through a transition phase as some of the youngsters are settling down. Hopefully, the team will give Kumar a fitting farewell by winning the series," said the 38-year-old Jayawardene.
Jayawardene said that any transition phase takes some time and just like India have come out stronger with new crop of talented batsmen post Sachin Tendulkar, Rahul Dravid and VVS Laxman's retirement, the former captain expects his country to go the same way.
"There has been a lot of investment in youth and some good players have come up. If they are fit and consistent, then it augurs well for the future of Sri Lankan cricket."
Asked who are the two players, who could be long-term replacements of him and Sangakkara, Jayawardene had two names in mind.
"If they are fit, I believe Dinesh Chandimal and Lahiru Thirimanne are two players who can serve Sri Lankan cricket for a long time to come. Jehan Mubarak has had a great domestic season and I am happy that he has been recalled. We have an able leader in Angelo Mathews and Sri Lanka do have a bright future," said Jayawardene.
Jayawardene was recently seen playing for Jamaica Tallawahs in the Caribbean Premier League and the elegant right-hander is still happy to freelance in the domestic T20 leagues.
"I have not thought much about future. I am happy playing T20 leagues as it is for a short time. I have a young family and now priority is to spend quality time with them," concluded Jayawardene.
-PTI