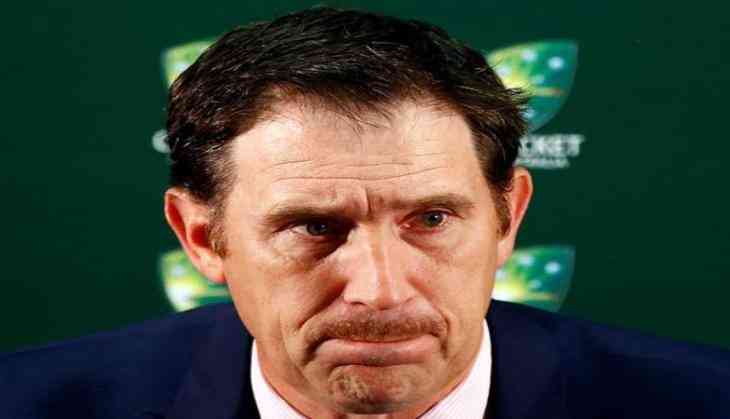 Cricket Australia chief executive James Sutherland, who returned to the head office last week, has refused to intervene in the ongoing pay dispute between the country's cricket board and the Australian Cricketers' Association (ACA).
The ACA has already threatened that the players will boycott this month's Australia 'A' tour to South Africa, if the board fails to take any action to resolve a bitter pay dispute between the two governing bodies by the end of this week.
It was decided that unless a new MoU is signed by Friday, the players-- who were selected to take part and those whose contracts have lapsed--would not be touring South Africa.
Australia A are slated to play a pair of four-day matches against South Africa A as well as a limited-overs tri-series against the Proteas' and India's A-teams.
While the Australia A four-day squad will be led by opener Usman Khawaja and features other Test players namely Glenn Maxwell, Ashton Agar and Hilton Cartwright, the limited-overs outfit will be captained by Travis Head.
And it is believed that the players want Sutherland to negotiate CEO-to-CEO with his opposite number Alistair Nicholson to resolve the standoff because of which almost 230 players have been left out of contract.
However, as per ESPNcricinfo, Sutherland has indicated his unwillingness to get involved after returning to Melbourne from a visit to England on ICC duty.
Players and the ACA executive, led by president Greg Dyer and Nicholson, held a meeting in Sydney on Sunday to discuss their response in the absence of a new Memorandum of Understanding (MoU) between the ACA and Cricket Australia.
The ACA passed a resolution which stated: "The players affirm their view that third party mediation at CEO level remains the right process to resolve the current impasse."
Apart from sending a warning to cricketers on May 12 that out of contract players would be unemployed should no agreement be reached after the expiry of the June 30 deadline, Sutherland has maintained his position of delegating industrial relations to other senior executives.
However, history suggests that the CA chief executive has entered talks late in the process to ensure their smooth progression.
Kevin Roberts, a former board director now employed as CA's head of strategy and people, have been leading the negotiations over the next MoU, with strong involvement from the CA chairman and former Rio Tinto managing director David Peever.
Mark O'Neill, another former Rio Tinto executive, is also now working at the cricket board as the head of a new public affairs department, communications, government relations and infrastructure.
ACA had earlier rejected the new pay offer from the game's governing body, saying the proposal will be a win for cricket administrators but a loss for the game.
In March, CA made an offer, proposing that the average pay of Australia's international women's players would rise from $A79,000 to $A179,000, while the average remuneration of state cricketers would more than double to $A52,000.
Under CA's proposal, only male international players would have the chance to share in any surplus revenue, while other domestic male players and women at both domestic and international level would have to settle for fixed amounts which would not fluctuate according to the game's income.
However, the ACA pointed out a series of concerns with the proposal, saying that it "disrespects the value of domestic cricketers and the role they play in Australian cricket".
The major reason behind the ACA's opposition is CA's proposal to scrap a shared revenue model for player payments, which has been in place for nearly 20 years.
Cricket Australia had in May threatened that players would not be paid beyond June 30, the date of expiry of their current five-year financial deal, if they don't accept the governing body's new proposed offer.
-ANI