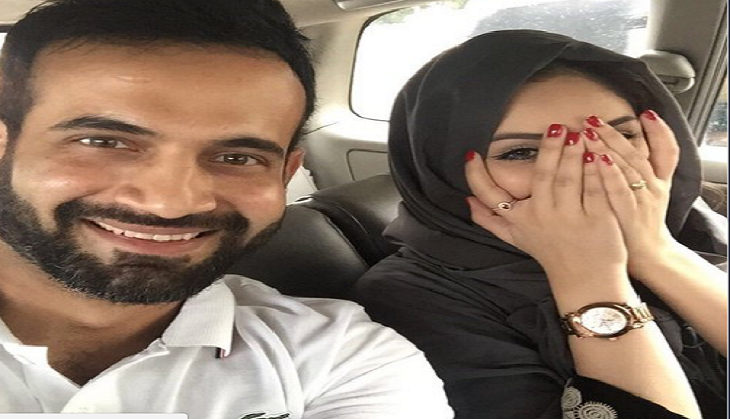 Indian bowler, Irfan Pathan got surrounded by some haters a few days back when he when he uploaded a picture of him and his wife on his social media account. He posted a picture on his Twitter account and later got trolled by the people because of his wife being 'Un-Islamic'.
Check out the picture that he uploaded here:
Kuch to log kahenge logo ka kaam hai kehna but always #love #travel pic.twitter.com/aERzXr0g2j

— Irfan Pathan (@IrfanPathan) July 17, 2017
Here is how the Twitterati reacted over his wife's picture.
Itna Hi Shauq hai toh burkha bhi nikal do..Don't make fun of our values..

— jawed (@jawedpmd) July 17, 2017
But1 bat yad rakhye ap us bap k bete aur us mzhab ke mane wale h jo aurto ko parde aur unki izzat ki hifazat ki bhot sakhti se taqeed krta h

— Nadeem Zakariya (@NadeemZakariya) July 17, 2017
However, the handsome looking bowler decide to shut them all with just a simple message and that was the message of love. He uploaded a picture of himself posing with a simple message alongside. Check out the picture here.
I repeat :) If there is more love than hate I think we are doing alright. #spreadlove pic.twitter.com/oEHsXqkEI4

— Irfan Pathan (@IrfanPathan) July 19, 2017
And later the Twitterati also came to his support.
Irfan saab, dont care about haters. Do what u like, haters have nothing to do useless ppl

— Razi (@abduraziq) July 19, 2017
Let them hate sir. You are proud of India 🇮🇳 and we love you, and above all Country first

— Kumar Bhanu K S 🇮🇳 (@kumar856) July 19, 2017
nafrat shaitani waswasa hai mere bhai, mohabbat allah ki hidayat hai, jo nafrat aur gusse par kabu pa liya, woh bahut bada ban jata hai.

— KHALID HUSSAIN (@khalid1972) July 19, 2017
We are proud of you Irfan.