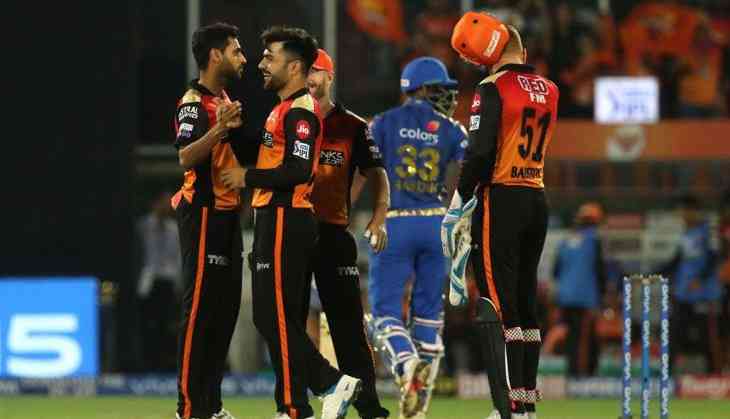 Mumbai Indians finished their innings at 136-7 in 20 overs. Sunrisers Hyderabad won the toss and opted to bowl first against Mumbai Indians and the decision proved to be a good one. Hyderabad bowling attack demolished Mumbai's top-order as Rohit Sharma went for just 11 runs. Sharma was dismissed by Mohammed Nabi in the 4th over.
Suryakumar Yadav came in and was sent back by Sandeep Sharma for 7 runs off 8 balls. Quinton de Kock was dismissed by Siddarth Kaul for 18-ball 19. Krunal Pandya was the next batsman to go a mistimed a shot and Jonny Bairstow did no mistake in taking the catch. Pandya was dismissed by Kaul for 6 runs.
Ishan Kishan became victim of an unfortunate run-out as he was sent back for 17 runs. Hardik Pandya was dismissed by Rashid Khan for 14-ball 14. Rahul Chahar was dismissed by Bhuveneshwar Kumar for 10 runs.
Kieron Pollard took the matters in his own hands as he hit 26-ball 46. Siddarth Kaul took two wickets, while Mohammad Nabi, Rashid Khan, Bhuveneshwar Kumar and Sandeep Sharma took one wicket each.