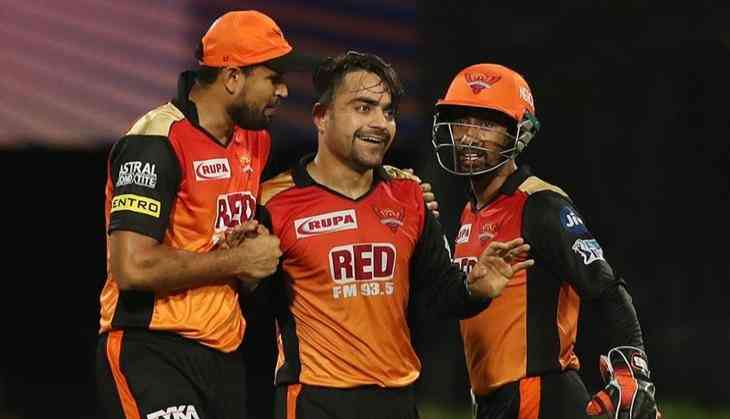 SunRisers Hyderabad leg spinneer Rashid Khan dedicated his man of the match award in a match against KKR at EdenGradens to those who lost their lives in a blast during a cricket game in his hometown earlier this month.
Amid eight people were killed and dozens wounded in a series of blasts during a cricket match in eastern Afghanistan earlier this month.
This Afghanistani magician became one of the most wickets taken by an overseas leg-spinner in a single season, he scalped 21 wickets and added this milestone to his name.
Interestingly, the previous holder of this record was former Australian Spinner Shane Warne, who took 19 wickets for Rajasthan Royals in 2008, the inaugural edition of the IPL.
At a time when 150 looked tough, Rashid came out to bat at No 8 and slammed an unbeaten 10-ball 34 as Hyderabad scored 50 runs in the last three overs to post a total of 174/7 in their 14-run victory here last night.
"I want to dedicate this award to those who lost their lives in a blast during a cricket game in my hometown back home," Rashid, 19, cited at the post match presentation ceremony.
"Focus was to just believe in my skills. I was happy with the batting; it was needed in the end. I started my career as a batsman; I believe in my skills and wanted to finish off well.
"I just tried to pick the lengths; the focus was to play straight. That was the plan from the senior players. Fielding is one department where you can't make excuses, compared to last year, I've worked really hard in my fielding".
"If I can't contribute with bat or ball, I'm always looking forward to contribute on the field. Modern cricket demands that. I'm working hard on that," he signed off.
Rashid Khan was superb in all fields, whether it is bowling, batting or defending runs in crucial time. He is most restricting overseas leg spinner. Afghanistan Star Leg Spinner hits one of his six was so charismatic that it made our jaw drops in shock. People have gone crazy over the thrilling one-legged shot.
Also Read: Here's how Rashid Khans's one-legged six shocked commentators; see video