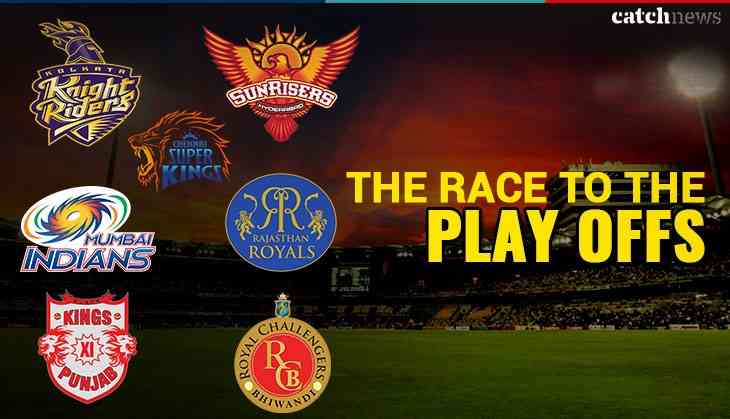 As the IPL 2018 is heading towards its playoffs, the matches have grown more and more exciting. The two table toppers Sunrisers Hyderabad and Chennai Super Kings have already qualified for the next level of the tournament. Sunrisers Hyderabad and Chennai Super Kings have 18 and 16 points respectively in the 12 matches played so far. Moreover, The Delhi Daredevils are already out of the playoffs. So, it's now only seven teams in the race to the IPL title.
Kings XI Punjab, Kolkata Knight Riders and Rajasthan Royals, with 12 points each, and Mumbai Indians and Royal Challengers Bangalore, with 10 points each are still in contention for a place in the playoffs.
Kings XI Punjab
Kings XI Punjab and Mumbai are going to clash today in the match 50 of the IPL 2018. The team has been playing well and was one of the top contenders for the title after their initial matches but presently their berth in the playoffs is under suspicion. Moreover, a loss in the today's match may also get them eliminated from the tournament.
Kolkata Knight Riders
Kolkata Knight Riders have had a mixed season this year as they have won 6 of the 12 matches played so far and have lost as many. Their next match against the Rajasthan Royals is all but boring and a loss here will take Rajasthan to the playoffs and leave Kolkata struggling.
Rajasthan Royals
Speaking of Rajasthan Royals, they also stand in a similar position like Kolkata Knight Riders. Having amassed 12 points off 12 matches. They need one more win to ease their journey in the league. Rajasthan Royals have proved themselves as a team that can work in situations when there is a dearth of resources around. They do not have the best in the league but have managed to get the best possible results with the available bench strength.
Also Read: BCCI may announce the first women IPL match soon, here are the details about the first match