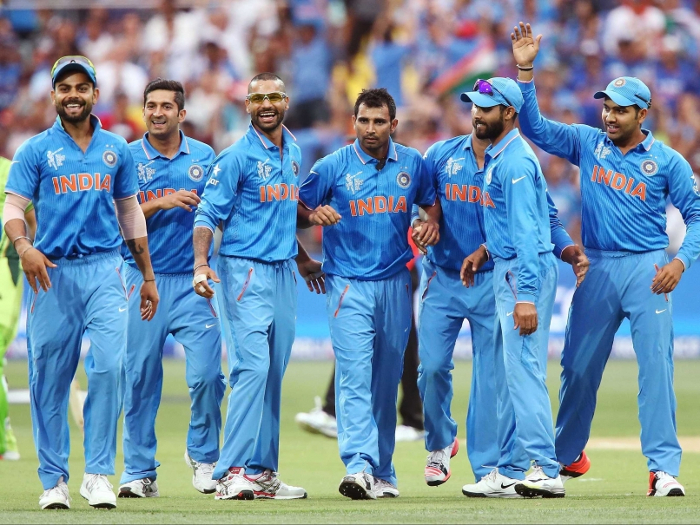 The Indian team kicked off their tour of Australia with a disappointing loss at Perth in the first ODI, as Australia cruised to a convincing victory after a century from captain Steve Smith in the second innings.
However, conditions in the Brisbane seem to favour the 'men in blue' as they will look to capitalise on a flat surface with a bigger first innings score than in the previous match. Here are 5 things that India must do better in the second ODI to make a comeback and level the series 1-1.
Avoid losing early wickets - With Shikhar Dhawan already having made his way back to the pavilion after edging a ball through to the wicketkeeper off Joel Paris' bowling, it is imperative that the Indians do not lose any more early wickets. The last match saw a mammoth partnership between Rohit Sharma and Virat Kohli after the team encountered a similar situation, and the same would be needed for the team to put up a competitive first innings score.
Faster run-rate in the middle overs - While the match at Perth saw a first innings score of 309, the abundance of T20 matches being played in this era means that a required run-rate of a little over 6 runs an over does not scare the chasing side as it once probably did. The Australians looked comfortable chasing the score of 310, and Sharma and Kohli must ensure that they score at a more rapid rate in the middle overs to set a higher total.

Make use of the size of the ground - The 'GABBA' in Brisbane is one of the biggest stadiums in world cricket. So while the Indian batsmen might find boundaries hard to come by because of the sheer distance to the boundary ropes, it is imperative for them to compensate for the same by converting singles into doubles, and doubles into triples. A high level of stamina would be needed for the same. Get those fluids ready, boys!

The spinners must make use of the pitch - While the Indian spinners were rendered ineffective in their last match because of the nature of the pitch at Perth, the pitch at Brisbane offers more assistance to the spinners by virtue of it being a flat surface. In the second innings, it is likely to wear out, making it perfect for spinners. Ravindra Jadeja's performance is likely to be a key factor in determining whether India have success in this match.

Aggressive field placements - The Indian fielding in the last match was passive to say the least, as Glenn Maxwell and Steve Smith almost cruised their way through to chase the total in the second innings. There was no intent shown by the Indian fielders to be aggressive and attack the ball. Captain MS Dhoni's field placements must be concentrated in the 30 yard circle as much as possible to squeeze the flow of runs.