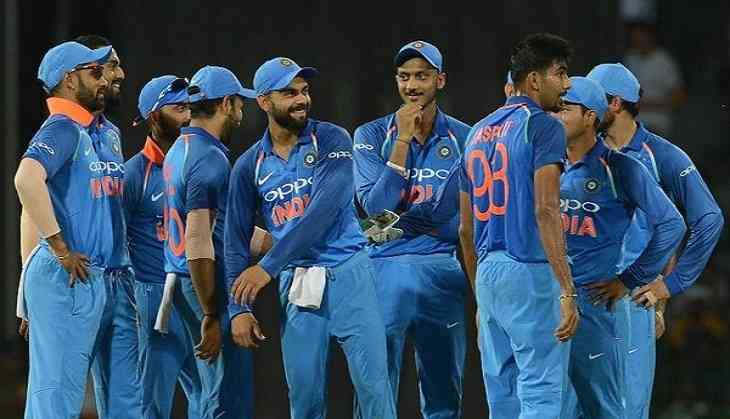 Virat Kohli-led team India
In amid of ongoing series between India and Sri lanka, Virat Kohli-led team India got surprised when a couple of girls rushed towards them with water bottles and napkins during drinks break.
This unusual incident took place during the second innings of 4th ODI, when Kohli-led team was defending the mammoth total of 375 runs against the hosts.
During Lanka's chase, field umpires called for the mandatory drinks break after the first hour.
Ajinkya Rahane and Yuzvendra Chahal were the reserved players to serve drinks to the team but along with two players few girls gave a shock to the Indian team when they run for serving drinks and napkins.
The reason behind this unusual sight might be a step from Sri Lanka to draw the crowd to the ground again.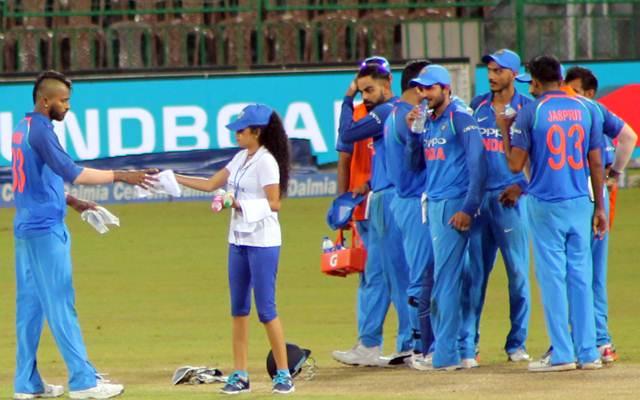 Girls carrying drinks for Indian players on field (Twitter)
But, a Sri Lakan Cricket official has revealed a real reason behind the board's decision.
"Ground must look beautiful," the board officials were quoted as saying by the Daily Observer.
Bhairav Shanth, the Co-founder of the ITW – the event management company overseeing the match in this series, stated that they wanted to do 'something new'. "We wanted to do something new to the old tradition and this idea struck to us….", Bhairav said.
Currently, India will eye their first ODI whitewash since 2013 while Sri Lanka will be looking to end what has been a disappointing home season so far on a positive note with victory in the fifth and final match at the R. Premdasa Stadium on Sunday.
Defeat will mean India sweeping the series 5-0, having already won the three-Test series 3-0. There is a one-off T20I to be played on Wednesday, and that is when the tour formally comes to a close, but a win there will not mean as much as it would in the last ODI of this series.
Sri Lanka had needed to win at least two matches to ensure West Indies would have no chance of going ahead in the qualification race for the ICC World Cup 2019. However, losing the fourth ODI by a huge margin of 168, their greatest in terms of runs on home soil, thrashed their dreams of direct qualification for the prestigious quadrennial tournament.