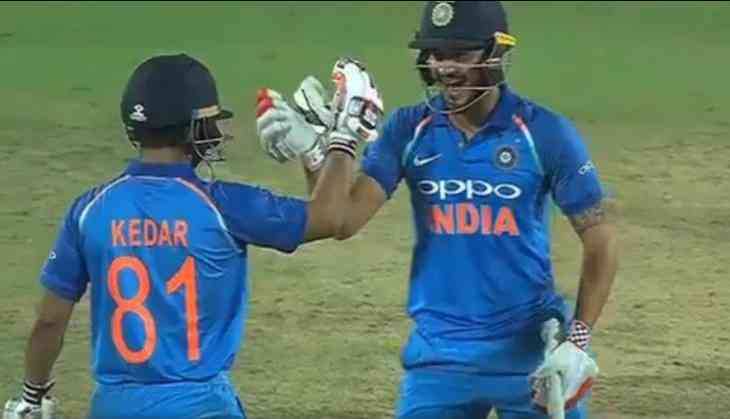 India on 8th October have won the opener of three-match series against Australia at Ranchi's JSCA (Jharkhand State Cricket Association) Stadium Complex.
India won the toss and elected to field first against Australia. The omen was not good for the visitors as captain Davide Warner was dismissed by Bhuvneshwar in his first over with eight runs on the board, which the captain scored.
Glenn Maxwell on his individual score of 17 became victim of Bumrah in the seventh over when the score was 55.
Aaron Finch (42) was the third batsman to go when Kuldeep Yadav clean bowled him in the 10th over.
Moises Henriques (8) went to pavilion in the 13th over after a delivery of Kuldeep Yadav hit stumps. Australia's score was 87-4.
In the next over, Travis Head (9) was clean bowled by Hardik Pandya when the total score was 89 runs.
Bumrah got the wicket of Tim Paine (17) and Nathan Coulter-Nile (1) in quick succession. He picked both the wickets in the 18th over and ironically both the wickets were clean bowled.
Statistical analysis of the first T20I between Australia and India in Ranchi:
India's magnificent nine-wicket victory is their largest over Australia in terms of wickets in T20Is, eclipsing the eight—wicket victory at Melbourne on February 3, 2012.
Between October 10, 2013 and October 7, 2017, India have won seven consecutive matches against Australia in T20Is — their best winning sequence.
India have won ten and lost four out of 14 matches played against Australia in T20Is — winning % 71.42. Their tally of wins against Australia is the most against any other opponent.
India have won 50 matches out of 84 contested in T20Is (Lost 31, NR 2 & Tied+W 1) — success % 61.58. India became the fourth team to have won 50 matches or more in T20Is, joining Pakistan (69), South Africa (57) & Sri Lanka (51).
Kuldeep Yadav's match-winning figures of 2 for 16 are his best in T20Is, eclipsing the 2 for 20 vs Sri Lanka at Colombo (RPS) on September 6, 2017.
Kuldeep Yadav has received his first Man of the Match award in T20Is.
Aaron Finch, with 334 runs at an average of 47.71 in seven innings, has set a record by an Australian batsman for the highest runs' tally vs India in T20Is, eclipsing the 302 (ave.50.33) in eight matches by Shane Watson.
Aaron Finch has totalled 1124 runs in 32 innings at an average of 38.75 — the highest among the Australian batsmen with atleast 500 runs in T20Is.
Chahal has dismissed Glenn Maxwell in all the four matches in international cricket — in three ODIs in the 2017-18 series — once each at Chennai, Kolkata & Indore and in a T20I at Ranchi.
-With agencies inputs.