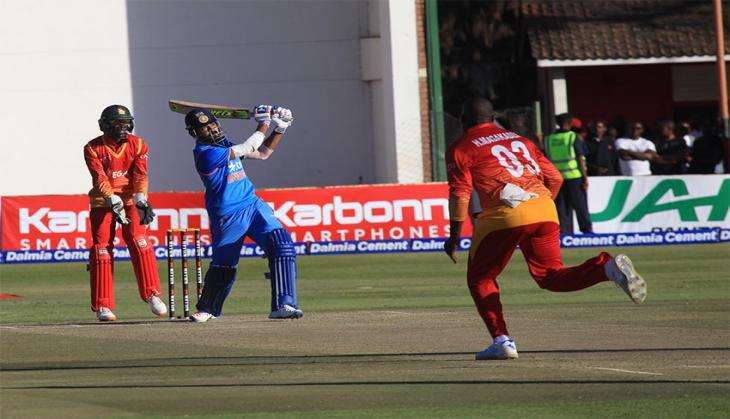 With two fifties in the two practice games, Indian batsman Lokesh Rahul has virtually staked claim for a Test spot when the series against the West Indies gets underway in Antigua on July 21 but the youngster says that thought has not yet struck him.
On day two of the second tour match against West Indies Board President's XI, he retired not out on 64, following up on his score of 51 in the first warm-up match at the same ground earlier in the week.
"Selection is something not in my control. As players we look to prepare and if opportunity comes by, we want to do well, both for ourselves and for team. There's still a week to go before the Tests start, so in next couple of days we will know who is playing and who is not. It's not something I am worried about. What has to happen, it will happen," he said after the second day's play against WICB President's XI.
"The idea was to come here early, get used to conditions. I'm really happy with the way I have batted in the last two innings. It has helped in getting used to the conditions here, and the weather is hot and humid. It is not easy to get runs out there, and I have tried to use these two innings and use the time before the Test series. I think I am prepared quite well," he added.
India finished their first innings at 364 all out, with Virat Kohli (51) and Ravindra Jadeja (56) also scoring half-centuries. Ajinkya Rahane and Wriddhiman Saha also scored comfortable thirties.
But the worrisome bit was that home side off-break bowler Rahkeem Cornwall picked up 5-118, again highlighting this Indian line-up's frailty against spin.
"I think we will be at an advantage if the pitches are spin-friendly. We have three quality spinners who are in good form in the Test format, so we will be very happy if we get turning wickets," he said.
"At the same time, we have firepower in pace department as well. All of them have increased their fitness levels and pace, so it is good to see them bending their back on tough wickets like these. They are getting the ball to carry, so it is a really good sign," said the 24-year-old Karnataka batsman, shrugging off the five-wicket haul by Cornwall.
"I don't know about other venues. Out here, the pitch has been a little slow. The ball goes soft after 20-30 overs and as a bowler or fielding team, everybody has to put a lot of effort. If there is not much assistance from the wicket, then coping with the weather is going to be challenging as well. Everyone needs to make an effort together, but we are up for it," he added.
It has been a good summer for Rahul personally, who enjoyed a productive IPL that earned him an ODI call-up.
Then, in Zimbabwe, he scored his maiden hundred and with back-to-back fifties now, is certainly pushing for a spot in the Test eleven, irrespective of what he claims.
"Working my way through different formats has not changed my batting approach much. It is just that the format changes and you get a lot more time in Tests. As professional cricketers we need to adapt," he said.
Rahul said coming early helps to get some match practice and get into the Test mould.
"You are able to spend some time in the middle and adapt to different roles. As for me, I just wanted to keep improving at the highest level, otherwise you get sorted out quickly.
"Earlier in the shorter format, I was not consistent, so I was not getting noticed. But I always believed that I had the game to do it. It was just about consistency," the young opener said.
Asked about the Anil Kumble effect, he replied, "He has always played his cricket with aggressive intent. As a person too, he is a very aggressive personality. To have someone like him, someone who has played in the West Indies and performed very well, to get his feedback about conditions, it is very valuable for us.
"He (Kumble) is doing a wonderful job and has made us all very comfortable in our roles and responsibilities. We are also doing a lot of team activities. It is helping the team bond and we are enjoying each other's company. Obviously it helps to be in the West Indies helps," said Rahul.
"The vibe is relaxed and you want to get on the beach and enjoy. Overall, there is a great atmosphere in the dressing room," Rahul signed off.
-PTI