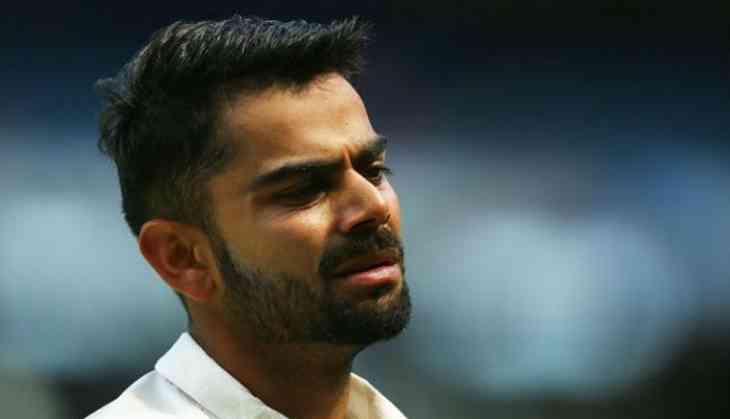 In a recent fiasco, Indian cricketers Hardik Pandya and KL Rahul's appeared on a TV chat show of filmmaker Karan Johar 'Koffee With Karan 6' and made a 'sexiest' comment about women that sparked fresh controversy leading to their suspension from playing any form of cricket with immediate by the Board of Control for Cricket in India (BCCI), just hours before India's first Australia ODI tour. After their Pandya and Rahul controversy, an old video of skipper Virat Kohli has been making rounds on social media.
Indian cricket team captain has been brutally roasted on social media after his old video has gone viral on social media 'again'. In the throwback video, Kohli can be seen calling a girl 'ugly' when asked by host Anusha Dandekar about the quickest date he has ever had.
"I actually went on a blind date which ended in about five minutes. I saw the girl and I ran away." When asked why he had run away, Kohli replied, "She was ugly".
Watch Video here:
Virat Kohli calls a girl "ugly" after leaving her stranded on a date.

Post your misogyny outrage below. pic.twitter.com/DjLYh4JJym

— Rohit Dennisharma (@DennisCricket_) January 13, 2019
As soon the video went viral on social media, Kohli was brutally trolled and criticized by Tweeple.
Recently, when Kohli was asked about the Team India's response to the whole Pandya-Rahul controversy, to which he said, "From the Indian cricket team point of view, any inappropriate comments that are made in that scenario are something that we definitely don't support".
"The two concerned players felt what has gone wrong and they have understood the magnitude. It has to hit anyone hard, they will definitely understand the things that have not gone right.
"These are purely individual opinions... we definitely, as the Indian cricket team, do not support views like that and that has been communicated."
Also read: 'Was shocked for first 15-20 seconds' says, Shubman Gill who replaced KL Rahul in Indian squad post