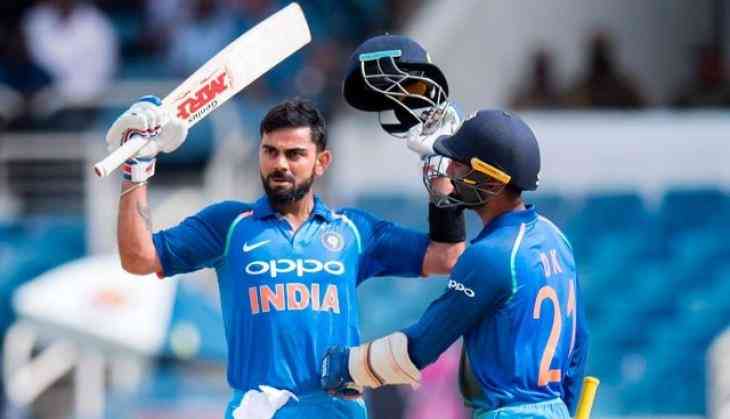 Team India has won the last and third T20 match against Aussies in the three matches T20 series. Australia came to bat and set the target of 165 runs for team India. India who was facing a bad time in the last two games here came strongly and the openers Rohit Sharma and Shikhar Dhawan had a brilliant partnership of 67 runs.
After a quick fall of few wickets in the form of KL Rahul and Rishabh Pant, it was Virat Kohli and Dinesh Karthik who made team India to chase the score of 165 runs. Indian skipper Virat Kohli made 61 runs on 41 balls with the help of 4 fours and 2 sixes. While on the other hand, Dinesh Karthik made 22 runs on 18 balls with one 6 and one 4.
Well, here we are going to share you something interesting about this partnership members Virat Kohli and Dinesh Karthik. According to stats, Virat Kohli has remained unbeaten in 12 chases and team India all those 12 T20 matches. The same goes for Dinesh Karthik as well, Karthik has been remained not out for 9 times and those 9 times India has won all the matches in T20.
In T20Is,

No. of times Kohli remained unbeaten in chases - 12 times
No. of times India won - 12 times

No. of Dinesh Karthik remained unbeaten in chases - 9 times
No. of times India won - 9 times#INDvAUS

— Umang Pabari (@UPStatsman) November 25, 2018
Meanwhile, we should not end the credit of this match to just Virat Kohli only, spinner Krunal Pandya had bowled really well and took 4 wickets in the last game against Aussies. While Shikhar Dhawan as well made smashing 41 runs to have a great start in the game. Well, for now, the T20 series between India and Australia has been tie.
Also Read - Ind vs Aus, 3rd T20: Captain Virat Kohli's fifty and Krunal Pandya's four wickets helped India to save T20 series