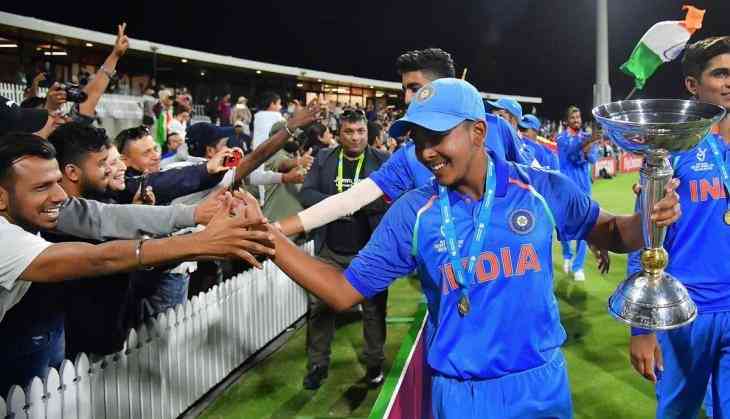 ICC U-19 World Cup, Ind vs Aus
Team India's latest stars captured the Under-19 World Cup played in New Zealand on Saturday for the fourth time. The team led by Prithvi Shaw, with a storm of Delhi's Manjot Kalra hitting a century drove India towards victory by eight wickets in the final.
Australia's captain won the toss and decided to bat first and could managed to score only 216 runs in 47.2 overs. In response, Team India achieved the target of 217 runs only in 38.5.
Let us know that the event of winning most of the U-19 World Cup so far was the name of Australia and India jointly.
This time, Prithvi Shaw not only won the World Cup for the fourth time but also entered in the books of cricketing record.
Let us have a look on these records:
Shaw has become the youngest captain to win Under-19 World Cup. The current age of Shaw is 18 years and 86 days. Earlier, this record was named after Australia's star all-rounder Mitchell Marsh. When his team under his leadership won the World Cup, he was 18 years and 102 days old.
Prithvi Shaw equals Team India captain Virat Kohli with this win. The name of both of them is 100 percent of the captain's victory. Shaw and Kohli have so far won 11consecutive wins.
Shaw's bat banged in this World Cup and he scored 261 runs in 6 matches at an average of 65.25.
This is the highest run of captain as of now. Before that, the record of making the most runs was the name of Unmukt Chand. He scored 246 runs in 6 matches at an average of 49.20 in the 2012 World Cup. While Kohli scored 235 runs at an average of 47.00 in 6 matches of the 2008 World Cup.