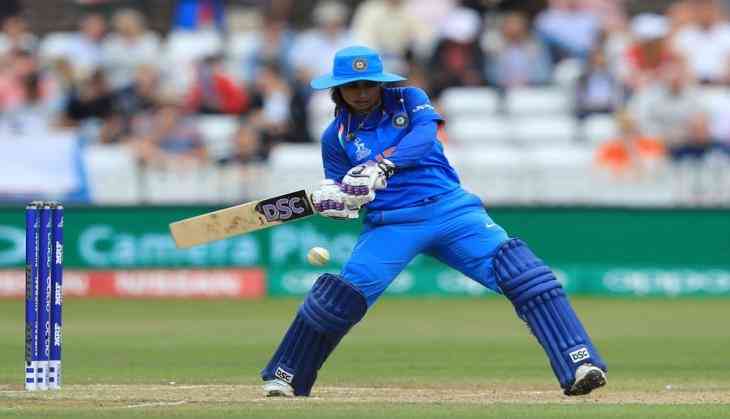 Indian women's cricket team skipper Mithali Raj, who led from the front to guide her side to a convincing 16-run win over Sri Lanka in their fourth ICC Women's World Cup encounter last evening, has insisted she has always enjoyed batting and stepping up for the national team whenever required.
Mithali and Deepti Sharma's 118-run third-wicket partnership led the way as India registered their fourth consecutive win at the prestigious 50-over tournament with a victory over Sri Lanka at the County Ground in Derby.
Raj (53) plundered four boundaries to record her 48th ODI half-century, as youngster Sharma (78) excelled at the crease for her sixth.
Two back-to-back wickets saw Sri Lanka stunt their opposition's growing total as India set a target of 233, but early wickets for Jhulan Goswami and Poonam set the tone for their chase.
"In the middle overs we really pulled ourselves and the dot balls pushed them to score in the end," Mithali said.
"Overall, our spinners did quite well. Cricket has evolved over the years because now we need to have more all-rounders, with bowlers who can bat in the slog overs and batsmen who can pick some wickets.I've always enjoyed batting and stepping up when it's required," she added.
After winning the toss and opting to bat first, Smriti Mandhana brought up her 200th run of the tournament with the opening boundary knock of the match before being caught out for eight by Shashikala Siriwardena.
A disciplined Sri Lanka outfield made for tough work for the Indian batters, but Raj and Sharma steadily chipped away at the runs.
A touch of brilliance from Sri Lanka captain Inoka Ranaweera saw the left-arm spinner dispatch Raj and Goswami in successive balls.
Seamer Sripali Weerakkody then brought her wicket tally up to three as first Harmanpreet Kaur and then Veda Krishnamurthy were caught to end their 50-run partnership.
Meanwhile, Sri Lanka's innings didn't get off to the best start as Mandhana juggled a catch to see an early Hasini Perera departure.
Chamari Athapaththu added four boundaries to her tournament-leading haul as Sri Lanka settled into an attack, but she was left reeling as she swung for a Yadav ball that clattered into the stumps.
It was an uphill battle for the chasers from then on in as Nipuni Hansika followed her team's talisman from the wicket as Sri Lanka struggled to cope with Yadav's sublime deliveries.
Sri Lanka's wickets continued to fall, and despite Manodara's half-century, their slow start on the crease ultimately proved costly.
Expressing her appointment over the defeat, Sri Lanka skipper Ranaweera admitted that her side made a lot of mistakes during the match before vowing to bounce back and perform to the best of their abilities in the next match.
"We have had good matches against India, so I'm disappointed about our performance today, but we hope to do our best in the next game. We made a lot of mistakes. Sripali Weerakkody bowled really well today," Ranaweera said.
India will next take on South Africa on July 8 while Lanka will lock horns with West Indies a day later.
-ANI