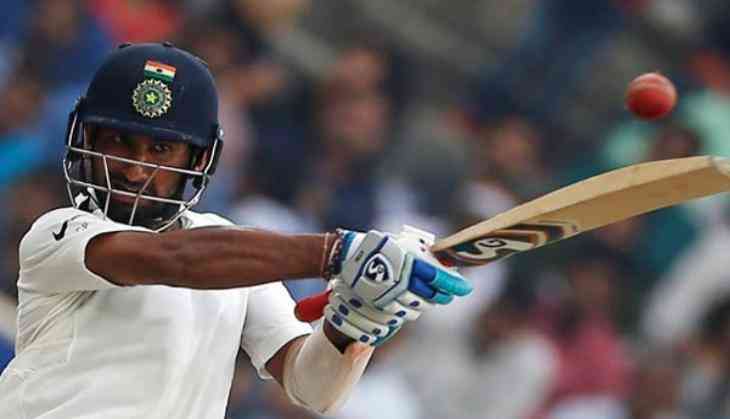 When it comes to Test cricket, the one batsman that Team India looks upto is Cheteshwar Pujara.
Whether India have to post a big first innings score or are chasing a big total, Pujara is the man that the Men in Blue, usually, depend upon.
And more often than not, Pujara delivers for the team. In fact, the performance of this Rajkot lad has been one of the key pillars in India's success in Test cricket in the last five to six years.
Pujara was dropped from the Test team during the tour of West Indies last year. But since his return to the team, India have played 15 Tests and Pujara has emerged as the team's highest run-getter.
In fact, in the period from August 18, 2016 until now, the gutsy right-handed batsman is the highest run-getter in Test cricket.
In 15 Tests in the above said period, Pujara has scored 1469 runs at an average of 66.77 along with five hundreds and eight half centuries.
Even in the ongoing Test against Sri Lanka at the Galle, Pujara, more known as 'Che' by his teammates, was once again in his vintage touch as he struck 153 runs to propel India to a monstrous first-inning score of 600.
Pujara, alongside Shikhar Dhawan (190), led India's carnage as they posted 399 runs on the opening day of the Test match. They both stitched together a 253-run partnership and helped the team attain the driver's seat in the Test match.
On Day Two, the visitors further strengthened their grip on the Test match, as they reduced the hosts to 154/5 by the time stumps were drawn.
During the press conference after the second day's play, Pujara was asked about what keeps him going, to which he replied:
"Whenever I play cricket, at the international level or first class level, I enjoy this game. I don't need any extra motivation as far as cricket is concerned. I love playing this game, I love my batting."
"Whenever I get an opportunity to score runs or to do something on the field, I always like that challenge and I am always very well prepared. I trust on my preparation and work hard on the same. Whenever there is a challenge, I am always up for it," he added.
One of the most special things about Pujara's style of play is his conventional, orthodox way of Test batting. In the era of T20s, he is one of the very few batsmen who still uses the conventional way of blocking and grinding the opposition till the time they become tired and bowl lose deliveries.
He bats for long periods and tries to build his inning.
However, his knock on Wednesday was more fluent as compared to his earlier innings. He used his feet well against the spinners and was always in search of scoring opportunities.
Off the 265 balls he faced, Pujara was in control for most of his innings and struck stylish 13 boundaries as well.
"As a batsman, you always want to perform well on challenging wickets. The wicket at SSC in 2015 was more challenging than this one. When you score a hundred on such wickets, it is more satisfying than this one. I always enjoy scoring hundreds," he said when asked about his preparation to bat on challenging wickets.
In a stellar Test career of 49 matches, the 29-year-old has amassed 3942 runs at an average of 53.27. He has scored 12 centuries, with a top score of 206*. And one could only expect this Rajkot lad to continue with this conventional, gritty, gutsy style of batting and score more runs for India.
-ANI