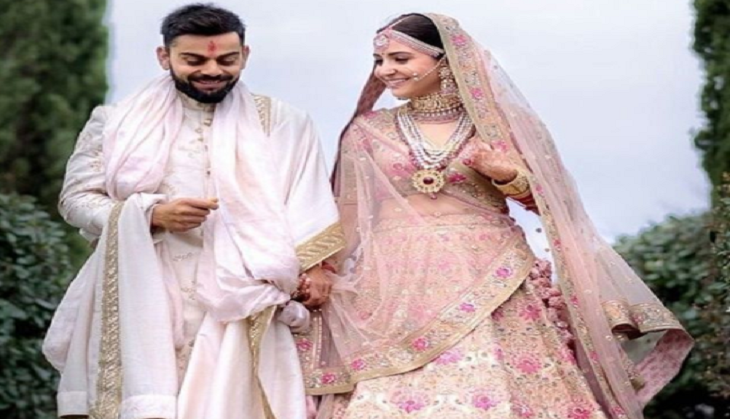 The most loved couple of India, Bollywood superstar Anushka Sharma and Indian skipper Virat Kohli tied the knot on Monday in Italy and social media had a meltdown with all the wishes for the newly wedded. As per the statement realised by Virat and Anushka, their marriage was a closed-door affair and it was attended by close family and few friends as "they wished their wedding to be a very private affair".
From the moment the news about their marriage has broken to the media, Twitter had flooded with all type of message for the duo and there is a section on the Twitter (female fans of the Indian skipper Virat Kohli) who is pretty upset with this news. As their 'crush' Virat is no longer a bachelor.
In the year 2014, English cricketer Danielle Wyatt create a buzz on the micro-blogging site Twitter by proposing Indian skipper Virat Kohli, 'Kholi marry me!!!', her Tweet read.
Kholi marry me!!!

— Danielle Wyatt (@Danni_Wyatt) April 4, 2014
Now when Indian captain had tied the knot with his lady love Anushka Sharma, the English cricketer had congratulated the duo by Tweeting, "Congratulations @imVkohli & @AnushkaSharma." But from the moment she had wished them, the Indian fans have started a banter with her on the Twitter.
Congratulations @imVkohli & @AnushkaSharma ☺️💍

— Danielle Wyatt (@Danni_Wyatt) December 11, 2017
Stay Strong Danny. 😜

— Tabrez (@its_tabrez_) December 11, 2017
Only If she had proposed with correct spelling,things might have been different.After all its all in the name. 🙈😅#KohliNotKholi pic.twitter.com/EMa3rGhKlR

— Tabrez (@its_tabrez_) December 11, 2017
Thank you so much for the wishes pic.twitter.com/HFgz2htJmW

— ANUSHKA SHARMA KOHLI (@AnushkaSharmaK) December 11, 2017
You are the person i was looking to react on this😊👍https://t.co/AQ5kInRgCl

— GOKUL M S (@Gokulms6) December 11, 2017
Cricketaro ka pyar aksar Actress ya Model le jati hai.. dil chhota na karo😹😹

— Tipu Bhai (@PR1CELES5) December 11, 2017
December 11, 2017
Stay Strong

— Supreeth Mohan alias SuMo (@supreeth28) December 11, 2017