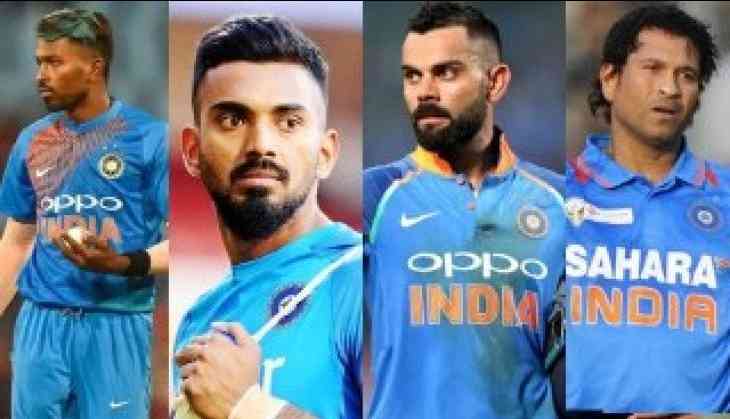 Hardik-Rahul-Virat-Sachin
Hardik Pandya and KL Rahul the two superstar of Indian cricket were the part of Karan Johar's chat show 'Koffee with Karan' season 6 and boy they were amazing. In the promo which was shared by the channel on social media shows the two men talking about Virat Kohli, MS Dhoni, Sachin Tendulkar female attention and cheerleaders.
On being asked by Karan Johar, "who is the better batsman, Sachin Tendulkar or Virat Kohli." Both KL Rahul and Hardik Pandya replied, "Virat Kohli."
This is the first time that Karan invited someone not from Bollywood and who better than Indian cricketers. KL Rahul also revealed that he had a crush on Malaika Arora but added he doesn't have a crush on her anymore as she is dating Arjun Kapoor now.
Both KL Rahul and Hardik Pandya were on national duty with the Indian cricket team for India's tour of Australia. KL Rahul played the first two Tests from the ongoing Test series but showed a streak of poor performances after which he was replaced by debutant Mayank Agarwal for the third Test but was called back for the last and final Test in which he again didn't perform well.
Hardik Pandya joined the team after his back injury during a match against Pakistan in the Asia Cup last year.
Virat Kohli and company won a historic Test series in Australia down under. No other Indian team has ever achieved that feat. India won the four match Test series by 2-1, as the fourth and final Test concluded in a draw at Sydney Cricket Ground (SCG) on Monday. Kohli was on cloud nine after winning the series.
This was India's first win in Australia in 71 years and in 11 Test series that they played in the Oceania. Test specialist Cheteshwar Pujara was awarded the Man of the Series trophy as he smashed three centuries and a half-century. He accumulated 521 runs, the most numbers of runs in the series.