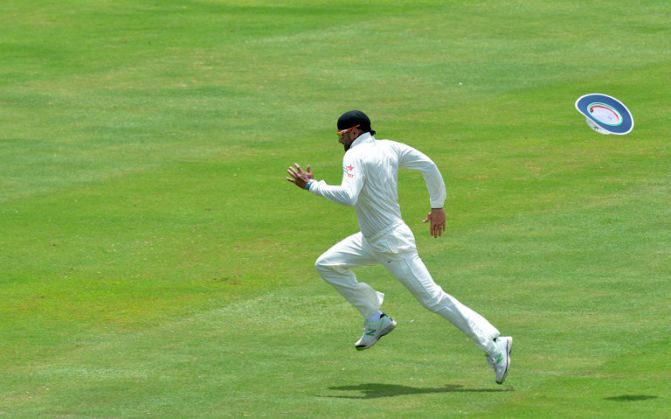 Harbhajan Singh's lackluster performance in the first Test against Sri Lanka has put him under pressure and former India tweaker Venkatapathy Raju feels the veteran off-spinner's poor form is the result of trying "too hard" to prove his worth on comeback.
In a match dominated by spin, Harbhajan picked just one wicket in his 25 overs during the course of two innings as India lost by 63 runs to go 1-0 up in the three-match series.
"He went through that rehabilitation phase while correcting his action. Then he was out of contention for a while and now when he has made a comeback, he is probably trying too hard. (But) There is nothing lacking on the experience front. He knows what to do in which condition," Raju said.
"But that's the problem, when you make a comeback and you are trying to prove yourself. You try to do something more and that sometimes doesn't work," the former left-arm spinner added. Raju, 46, who was part of the last Indian side which won a Test series 22 years back in Sri Lanka, said the three spinner theory works only when the batsmen get runs on board.
"When India went in with three spinners, there were batsmen like (Virender) Sehwag who would put up runs in the board. A score of 400 always helps. Then you had bowlers who were all-rounders. This team is a young team, probably they will gain experience and get better," he said.
"I was part of the team that won against Sri Lanka under Mohammad Azharuddin in 1993. See their strength has also been spin. They had the great Muttiah Muralitharan but also had a Chaminda Vaas who could come and pick wickets. And they were all good players of spin.
"But then our players were also playing domestic cricket and were used to those tracks. So whenever we hosted Australia or England, we put up more than 400-500 runs on the board," he added.
Praising Rangana Herath, who bagged seven wickets to help bundle India out for 112 in the visitors' 176-run chase, and Tharindu Kaushal for their exploits in Galle, Raju insisted that the duo had the backing of favourable home conditions.
"Rangana Herath and Tharindu Kaushal on the other hand worked well in tandem in home conditions and the spinners theory worked for Sri Lanka. But once again the batsman have to put up runs for the bowlers to defend," he said.
A Hyderabad veteran, Raju also opined that lack of domestic cricket on favourable pitches is hampering the growth of Indian players and spinners in particular.
"With the amount of cricket India are playing away from home, the players get very little time to play domestic matches. Even in India there is a packed schedule with tournaments like the IPL happening. So it leaves little time for state players to play on their pitches and hone their craft. If you go back to the golden days, the state teams would play on their strength," he said.
"Earlier state teams were given a choice as to what surface they wanted. And I personally believe that state teams should be allowed to play on their strengths and prepare pitches to their liking. Even countries play on their strengths. Not only Rangana Herath, but even Moeen Ali was made to look like a hero.
On the presence of spinners in South India, Raju said, "Like in South India, places like Chennai, Bengaluru, Kerala were known for spinning tracks. Some would be rank turners, while some would assist spinners from Day 3 onwards and bounce was there. But with a packed ICC calender, domestic cricket has suffered.
"When you came to North, you played seamers, but in South spin was more prevalent. In the last couple of years there has been a lot of talk about rank turners and they have been playing on seamer-friendly tracks," he added. Raju, who has been part of two World Cup teams in 1992 and 1996, is hopeful of a positive change in Indian cricket with an advisory committee being formed.
"But now with an advisory committee being formed with Sachin Tendulkar, VVS Laxman and Sourav Ganguly in the panel, I think these guys will be coming up with new ideas, which will benefit Indian cricket. Because they themselves were playing quality cricket in their time," he said.
Raju is also pleased with the recent four-day games being scheduled for the India A squad.
"You have to play a lot of four-day games on different wickets. Now they are doing that and it is a good initiative that they have taken where India A are playing Australia A and South Africa A. After the ODIs, they are playing four-day games as well. So it's good, that's the way to go about it," he said.
-PTI