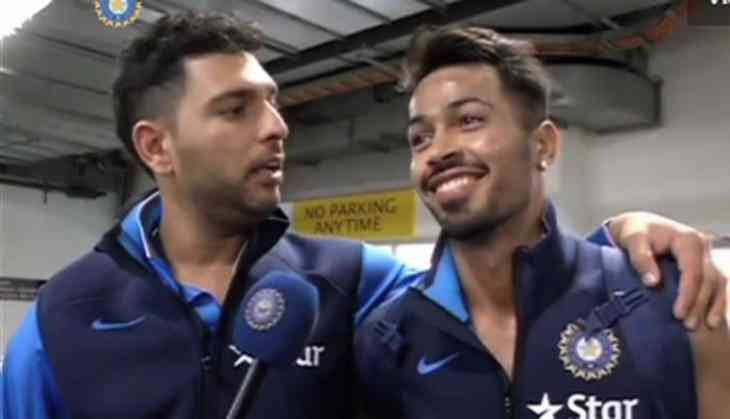 Flamboyant player Hardik Pandya believes he will break Yuvraj's six sixes record
Today, the Indian cricket fans are reliving the magical moments of Yuvraj Singh's six sixes in an over of Stuart Broad. This all happened on 19th September 2007 in the 2007 T-20 World Cup group match against England. This match will always remain memorable for India cricket fans.
It is a very tough record to just even touch but there is an Indian cricket who has openly said that he will break that record of Yuvraj Singh. It is none other than the smashing batsman Hardik Pandya. Hardik Pandya, who is currently the known for hitting massive sixes on the cricket ground, once said in an interview that he would love to break the record of Yuvraj Singh.
10 Years: Relive the magic of Yuvraj Singh's six sixes in a row
Hardik Pandya who recently became the player of the match in India vs Australia match, had made 34 runs in an over in Syed Mushtaq Ali Trophy.
After that match in an interview, Hardik Pandya had said, "I would like to repeat that (record of six sixes) but it will run always in my mind that I have to hit six sixes. But if the situation came and if I am hitting the shots then I will surely try. Making a record is always special for every cricketer."
This is notice that in the Champions Trophy final match against Pakistan, the Indian batting line-up faced a major collapse, while Pandya kept on fighting hard. This match is surely memorable for him in his career.