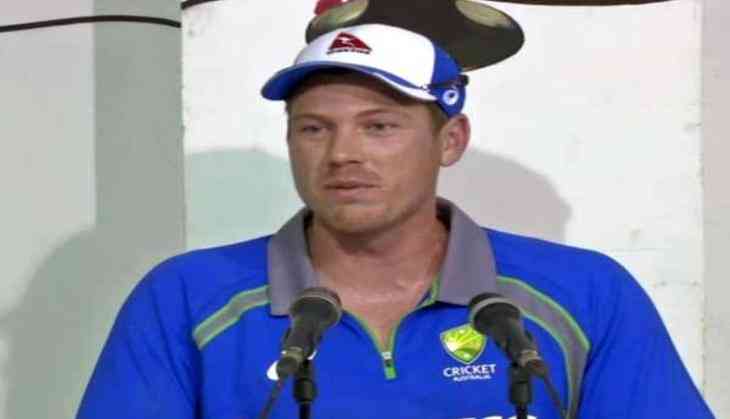 Admitting that India are currently in a very "good nick", Australian all-rounder James Faulkner believes that its going to be a real test for them when they face Virat Kohli and Co. in the limited-overs series starting 17 September.
Australia are coming off what was a challenging Test series against Bangladesh which they somehow managed to level.
On the other hand, the Men in Blue are coming off a successful tour of Sri Lanka, wherein they whitewashed the hosts in all the three formats.
India completed an overwhelmingly successful tour of Sri Lanka, winning every international match - 3-0 in the Tests, 5-0 in the ODIs and 1-0 in the lone T20I.
"Look, they (India) have played a lot of one-day cricket, off-late. They are in a very good nick at the moment. And like I said, it's gonna be a test and we are very excited for it," said Faulkner on Monday.
"It's going to be a good series. The last time we were here, we played some good, tuff cricket. We are really excited," he added.
The lanky pacer further asserted that it has always been a good cricketing rivalry between both the nations and the fans would definitely see some good, tough cricket.
The Steve Smith-led side arrived in Chennai from Bangladesh and would be playing their first warm-up match against Board President's XI at the MA Chidambaram Stadium on Tuesday.
"Looking forward to playing the warm-up game before the series starts. It's tuff conditions here in Chennai, its hot out there," the all-rounder insisted.
The reigning 50-over World Champions have struggled to counter spin and captain Steve Smith has admitted it will a big challenge for them to adapt to spin-friendly conditions.
Faulkner, who was not a part of the Australian squad for the Champions Trophy, would be playing the shorter version of the game after quite a while.
Speaking about the same, the 27-year-old said that it has been tough for him.
"It's been tough. If you ask any player any time he gets left out, it's no great fun. You have to rely on your friends and family and teammates as well," he said.
"And at the end of the day, it's up to you to be on the spot. So, I am excited to be back in the group.it's a good opportunity to play against a very good opposition in their own country," he added.
-ANI