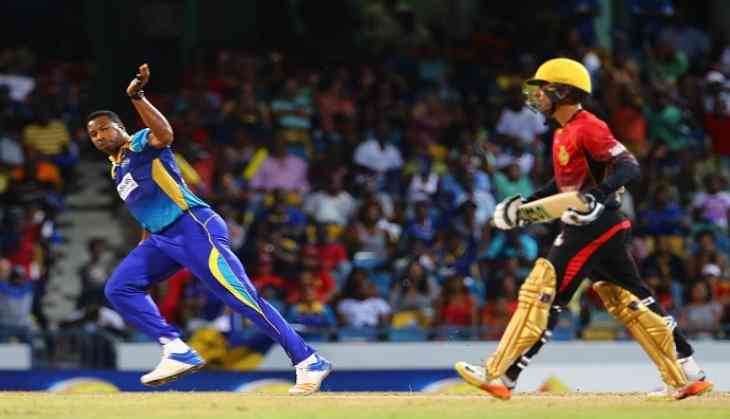 In the history of cricket, West Indies all-rounder Kieron Pollard has landed himself at the center of a huge controversy after he deliberately bowled a no-ball to deny opposition batsman Evin Lewis his century during a match of Caribbean Premier League match.
It all started when Trinidadian cricketer Lewis was batting on 97 off 32 balls with captain Chris Gayle for company and the score at 129/0.
"It hurts (missing out on the ton), but hitting 97 not out off 33 balls? I'll take that any day," Lewis said in the post-match press conference.
"I've been hitting the ball long and hard in the nets. I'm confident now and looking forward to the play-offs."
If Lewis had completed his century in 33 balls, then he would have become the second player to complete fastest in cricket history.
Here is how Twitter was fumed anger and criticized Kieron Pollard:
You should be ashamed of yourself @KieronPollard55 .... the kid deserved a ton.. #cpl17

— Innocent Bystander (@InnoBystander) September 4, 2017
Kieron Pollard denied Evin Lewis (97 no) the chance of scoring second fastest 100 of all times by bowling huge no ball on purpose #BanHim

— Joost van der Geest (@yoc123) September 4, 2017
While what #KieronPollard did last night is disgusting at all levels. What is shameful is that Evin Lewis is young and a fellow #trini!

— Denise Besai (@deniseb1305) September 4, 2017
Kieron Pollard got away with too many ill discipline actions and poor sportsmanship throughout this season's CPL. Ego overload

— Gary Lewis (@slidemongoose) September 4, 2017
BTW - that was absolutely disgusting from Pollard last night. No sportsmanship at all. No respect for him at all. #CPL17

— Rahul Puri (@rahulpuri) September 4, 2017
Kieron Pollard Bowls No Balls To Stop Evin Lewis (97* of 32 Balls) From The Second-fastest T20 Century. Bad Sportsmanship. 😡 #CPL17 #CPLT20 pic.twitter.com/eewNkU32rF

— Sir Ravindra Jadeja (@SirJadeja) September 4, 2017
@KieronPollard55 "Always doing my best and up for the challenge"
Maybe change your motto mate! Disgraceful sportsmanship!

— Matthew Sullivan (@MattSull67) September 4, 2017
Here is the video of complete incident: