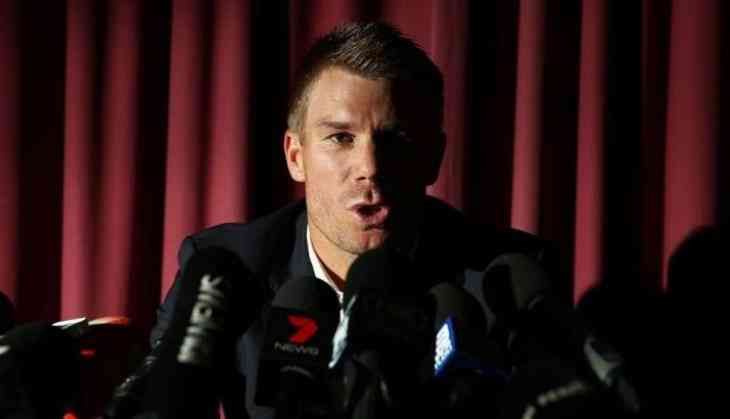 The ball-tampering scandal of Aussie former skipper Steve Smith and deputy David warner have tear them from inside. The cricketers' are regreting their mistake and even they are not able to control their tears in front of media.
In a press conference on Saturday Australia's former vice captain David Warner made a tearful apology on Saturday for his involvement in ball-tampering scandal. The cricketer said that he is fully responsible for the scandal that had happened.
"I apologise for my actions and I am sorry for the impact those actions have had on our country's reputation," said an emotional Warner, later adding, " I will regret for as long as I live."
"I take full responsibilities of my part in what happened and I am deeply sorry for the consequences of what I was involved in. I flawed in my responsibilities as the Vice Captain of Australian Cricket team," Warner said, later adding he would weigh up an appeal against his 12-month ban.
Warner also said that he hopes to play again for Australia. However, the cricketer refuted to answer the questions on if it was the first ball-tampering incident happened within the team.
Later David made a series of tweet referring to the unanswered question.
1/3 I know there are unanswered questions and lots of them. I completely understand. In time i will do my best to answer them all. But there is a formal CA process to follow.

— David Warner (@davidwarner31) March 31, 2018
2/3 I am taking advice to make sure I properly comply with that process and answer all questions in the proper place and at the proper time.

— David Warner (@davidwarner31) March 31, 2018
3/3 I should have mentioned that in my press conference I'm sorry for not making it clearer. With so much at stake for my family and cricket I have to follow this process properly. I think that's fair.

— David Warner (@davidwarner31) March 31, 2018
Along with Smith and Warner, Australia's opening batsman Cameron Bancroft was caught on camera tampering the match ball with a yellow-coloured sandpaper in a Test against South-Africa. This incident shocked the cricketing world. Later, the former skipper, Steve Smith admitted that he was the plotter of the scandal and was fully involved in the incident.
Also read: IPL 2018: These 5 unsold players who can replace Steve Smith and David Warner in the 11th season of the
Read the full transcripts from the Warner, Smith, Bancroft & Lehmann press conferences here: https://t.co/CsxflxQyCo pic.twitter.com/iqSoge4MUk

— cricket.com.au (@CricketAus) March 31, 2018
Following the Scandal, Warner and Smith stepped down from captain and vice captainship, and received a 12-month ban, as did Warner. Cameron Bancroft was suspended for nine months.
Also read: Bollywood actor Varun Dhawan also comes out in support of Steve Smith after ball tampering scandal; see