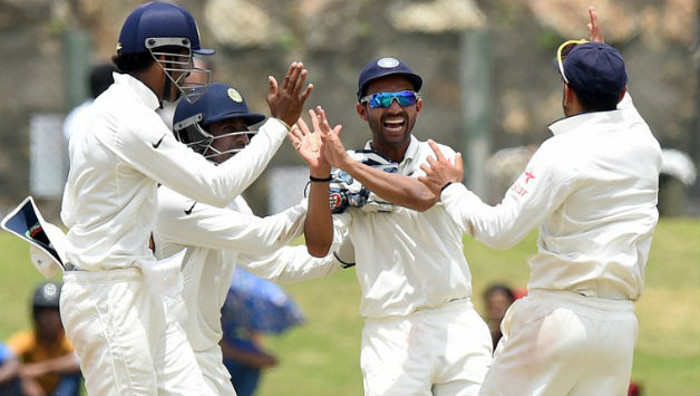 Ajinkya Rahane, known for his batting, has broken a fielding record with eight catches in a single Test match in the ongoing 1st Test match between Sri Lanka and India in Galle. Rahane, on 14 August, became the first non-wicketkeeper player to claim eight catches in a single Test match.
The earlier record was jointly held by five cricketers - Gregg Chappell (Australia), Yajurvindra Singh (India), Hashan Tillakaratne (Sri Lanka), Stephen Fleming (New Zealand) and Matthew Hayden (Australia).
Yajuvindra Singh, the Indian who jointly held the previous record of 7 catches, did it in the Test after Republic Day in 1977, while Rahane did it before Independence Day in 2015.
This is an unusual record for 27-year-old Rahane to hold, but he must feel proud. He caught Rangana Herath in the final session on Day 3 of the Test to complete the remarkable feat.
This is how ESPN Cricinfo put it: "Herath has been given caught at slip, and Rahane has become the first man to claim eight catches in a Test, Herath playing with a closed face, not sure that came off the bat, bounced, took the thigh pad, and went to Rahane's left, he has not missed anything so far."
Rahane's victims included Dinesh Chandimal, Dimuth Karunaratne, and Lahiru Thirimanne in the first innings and Dhammika Prasad, Kumar Sangakkara, Jehan Mubarak, Rangana Herath and Thirimanne in the second innings.
Before this Test, Rahane had taken just seven catches in 15 matches. Now he has overtaken his tally in just one match.
The record for most catches by any fielder is 11 - jointly held by England's Jack Russell and South African AB de Villiers. The record in first class cricket belongs to Englishman Wally Hammond, who took 10 catches as a Gloucestershire fielder against Surrey way back in 1928.
Rahane had an unforgettable experience with the bat as he was caught leg-before-wicket off the bowling of Tharindu Kaushal for a duck.