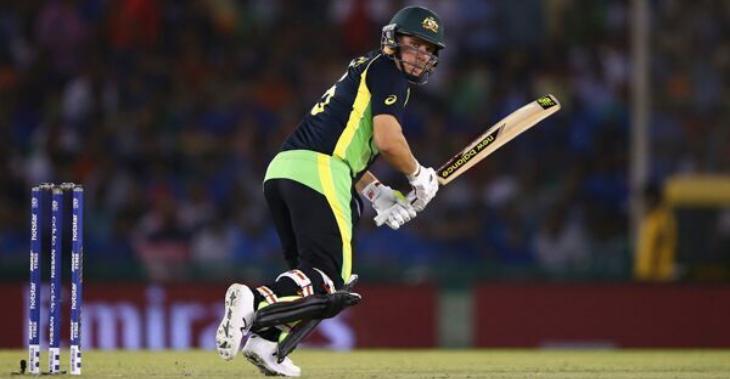 Australia's explosive opener Aaron Finch has slammed the pitch in Colombo by describing it as a 'poor wicket' despite his side's comfortable three-wicket win in the opening ODI of the five-match series here at the R Premadasa stadium.
Chasing a target of 228 runs, Finch smashed a 46-ball 56, the second highest score of Australia's innings after skipper Steve Smith (58), as the visitors got across the line with 19 balls to spare.
Finch remained in the crease for the first 14.2 overs of the innings, but the ball was consistently raising puffs even during Sri Lanka's innings.
"I don't think I've ever played on a wicket that spun that much.It was a pretty poor wicket I think. For balls to be going through the top from the second over - Josh Hazlewood to Tillakaratne Dilshan - for the second over of the game, I think that was pretty poor. We played well to track down that total. It seemed like a different spinner was bowling every over. They've got plenty of options and we played exceptionally well with the bat to get across the line," Finch was quoted as saying by ESPNcricinfo.
While insisting that he had not seen any wickets that spun somuch, the 29-year-old pointed out that the practice pitches that Australia had used at Khettarama, a day before was pretty well prepared from the track prepared on the match day.
"The ones next to it that we've been training on have been pretty good wickets. They started to spin a bit yesterday - late yesterday. I don't think I've seen any wickets that have spun to that extreme - particularly in a one-day game. I suppose the wickets that we trained on were probably not very similar, to be fair," he added.
The match also saw Mitchell Starc become the fastest bowler to reach 100 ODI wickets, having reached the milestone in 52 matches.
With this, Starc surpassed Pakistan's Saqlain Mushtaq, who reached the three-figure mark in 53 games.
Heaping praise on Starc, the right-hand batsman said it was a fantastic achievement for the left-arm pacer, who had been the best in the world from about last two years.
"It's a fantastic achievement from Mitchell - he's been the best in the world for a number of years now," Finch said. "When he gets it right there's absolutely no one better around. We were aware of the record. We thought that he'd get it in the tri-series in the West Indies, in June, but he didn't get any wickets in the final," he said.
Australia, who have now taken 1-0 lead in the series, will play their second ODI against the hosts at the same venue on Wednesday.