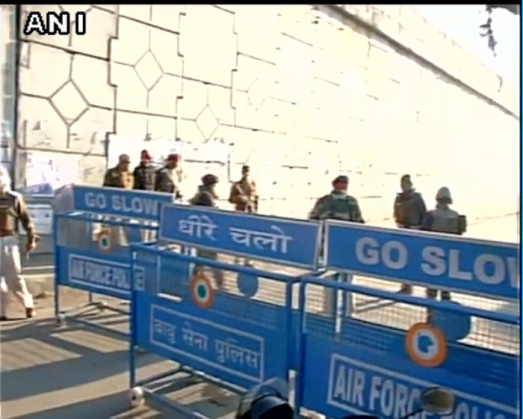 A group of terrorist attacked an air force base in Punjab early on 2 January. FOur attackers and two jawans were killed in the gunbattle at Pathankot.
According to PTI, the encounter began at 3.30am when terrorists dressed in military uniforms entered the Pathankot air base
According to reports, the attack is suspected to be the work of terror group Jaish-e-Mohammed (JeM).
The PMO has issued directions for the deployment of two army columns and a special forces team.
According to NDTV, Delhi and Punjab have been placed on high alert. NDTV reported that firing could be heard fro the IAF station area till 7:30 am on Saturday. The facility, which is located near the border with Pakistan, is the base of MiG-21 fighter planes and Mi-25 attack helicopters of the Air Force.
PTI quoted Home Minister Rajnath Singh as saying that the attack would be met with a befitting reply. "Pakistan is our neighbouring country. We want good relations with not just Pakistan but with all our neighbours... We also want peace but if there is any terror attack on India, we will give a befitting reply," he said.
According to reports, Gurdaspur Superintendent of Police (Headquarters) Salwinder Singh, and two of his friends were reportedly kidnapped from the Pathankot-Jammu on Friday by five armed men. The trio was tracked down at Akalgarh. Following the incident, the highway - including the area near the IAF station - was put under high alert.
Tourism Minister Mahesh Sharma visit Qutub Minar,takes stock of security situation #PathankotAttack pic.twitter.com/qxrAntHwws

- ANI (@ANI_news) January 2, 2016
Elements who can't stand peace carry out such attacks from time to time-Jitendra Singh,Union Minister #Pathankot pic.twitter.com/3Vd66hhcUG

- ANI (@ANI_news) January 2, 2016
IAF choppers have conducted an aerial survey of the site of the attack and have reportedly fired shots at the areas where the terrorists are believed to be holed up. According to reports, Defence Minister Manohar Parrikar will hold a high-level meeting later today to discuss the attack.