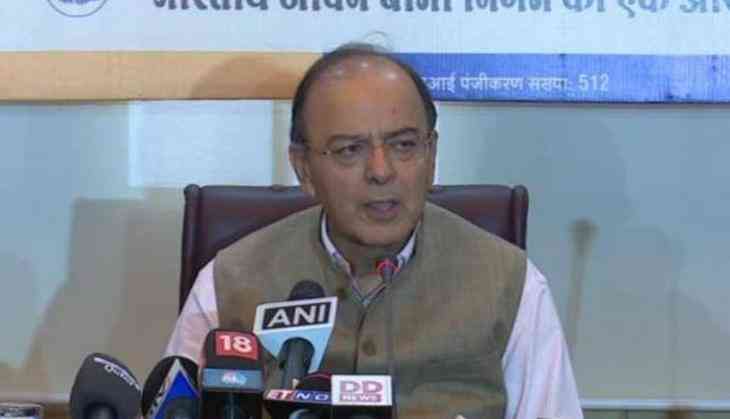 Union Finance Minister Arun Jaitley on 21 July said that rate of return being provided to senior citizens under the Life Insurance Corporation of India's (LIC) new scheme will be exempted under the new Goods and Services Tax (GST) regime, and will be free from fluctuation, thus ensuring more stability to the aged."In a world on reducing rates, a rate of return of 8.3 percent is fairly reasonable.
It is a rate which is exempted from service tax that existed until June 30, and the GST thereafter. It is also free from fluctuation during its 10-year period. Therefore, it becomes an absolute rate of return," said Jaitley, while addressing the media at the launch of Pradhan Mantri Vaya Vandana Yojana ( PMVVY).
"While the settlement ratio of the LIC is near to the maximum, it is important to strike equilibrium between social security and efficiency," added Jaitley while speaking about the scheme which was announced by Prime Minister Narendra Modi on December 31, 2016.
"Settlement ratio of LIC is near to the maximum. Banks have to lend at affordable rates, while senior citizens want secure, reasonable, unfluctuating return on their investment. We have to maintain critical balance between efficiency and social security," added Jaitley.
Urging the media to further popularise this scheme, Jaitley while lauding the scheme said it will garner more support, as it helps senior citizens with limited resources live a life of dignity, owing to the widespread reliability gained by the LIC across India.
The scheme, directed towards the security of the senior citizens, was formally launched by the insurance leader LIC of India, who were given charge of administering the policy.
"The market share of LIC of India has gone up to over 76 percent in terms of policies. Total income has also shown a growth of 16.13 percent in 2016-17. We are also looking at upgrading technology and empowering digitisation," said VK Sharma, Chairman, LIC of India who also expressed his gratitude to the Finance Minister for his presence at the launch of this scheme.
-ANI