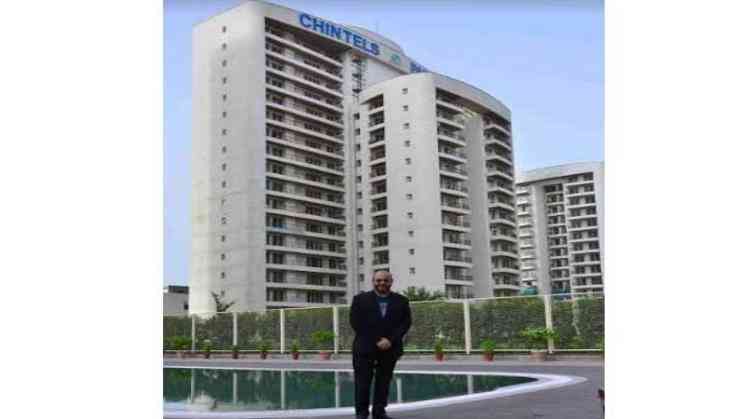 Chintels India Ltd. (CIL) a real estate development company in the process of developing over 600 acres of self-owned prime land in and around Dwarka Expressway bordering and including Delhi, announced the completion and commencement of handover of its first development 'Chintels Paradiso', a group housing project in Sec 109, New Gurgaon.
Chintels Paradiso is the foremost project of Chintels Metropolis, which is spread across three premium sectors of New Gurgaon sectors 109, 108 and 106. These new residential sectors, bordering Dwarka are being promoted as the next and hottest real estate destinations due to their close vicinity to Delhi and IGI airport.
Chintels Paradiso comprises of total nine high rise towers (542 apartments). The announcement was made on the occasion of the 100th birth anniversary of Nora Solomon, born on July 05, 1917. Chintels is actively involved in the field of education for the underprivileged through its Nora Solomon Foundation. The first phase of the project was completed in July last year and now Chintels has started giving the letter of possession to its customers after receiving the Occupancy Certificate (OC) for the second and final phase of the project.
"We are extremely excited and proud to announce the completion and handover of our first housing development project Chintels Paradiso, one of the first few projects to be completed in Dwarka Expressway. Chintels Paradiso - our first project has been one of the most anticipated projects in New Gurgaon and is an integral part of the major expansion plans we have in NCR region," said Prashant Solomon, Managing Director, Chintels India and Credai NCR Treasurer and Convenor of Credai National (Media and PR Committee).
"We are especially happy that the project completion coincides with the centennial celebration of my grandmother, late Nora Solomon. We are confident that this successful completion and hand-over process will help us further consolidate our industry presence. I would like to thank all our customers for their support and trust in making this endeavor a success," added Prashant.
The project is a luxurious 1.1 million square foot high-rise apartment complex in the heart of New Gurgaon, built over 12.3 acres of tastefully crafted serene environs, a truly peaceful abode. With close proximity to Delhi NCR, the 'Chintels Paradiso' has many facilities to its credit. A state-of-the-art infrastructure, amenities including high quality roads, schools, hospital, clubhouse, star hotels, commercial complex and an IT park to name a few.
The development is only a kilometer away from the new Northern Peripheral Road that is coming up there and is soon to become the primary link between Jaipur/Gurgaon and Delhi. It also has a 75-metre and 60-metre wide sector road within it. This project has a prime location making it one of the most attractive locations for the rapidly growing residential, commercial and retail needs.
"A Peaceful and cheerful abode in Gurgaon with lush green central garden and spacious balconies that fulfills the dream of my family," said Anshul Jain, a proud owner who has received the possession of his apartment.
Besides Chintels Paradiso, Chintels Metropolis also comprises of:
•Chintels Serenity, an under-construction project located in Sector 109, which is committed to redefining the concept of luxury and harmony. Chintels Serenity comprises of 3/4 BHK luxurious units. The project is spread across an area of one million square feet and consists of nine high-rise towers.
• International City, a 168-acre luxury integrated township being jointly developed by Chintels and Sobha Developers. Sobha Developers and Chintels are also coming up with a new residential project, Sobha City. The 22-tower project shall encompass 38 acres in Sector 108 and consist of 2/3 BHK Apartments. Chintels has also partnered with a real estate developer, ATS, in Chintels Metropolis on their project, ATS Kocoon - a gated residential project in Sector 109 of New Gurgaon comprising of 444 apartments designed by the renowned architect Hafeez Contractor.
•It also includes Chintels commercial projects for office space as well as retail, recreational area, educational and healthcare facilities and Chintels club among other essential amenities that will become a part of Chintels Metropolis.
-ANI