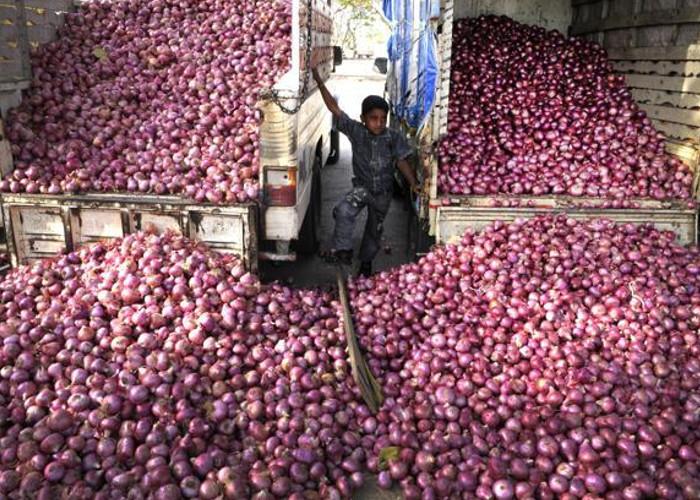 The government, under pressure to check retail onion prices that have shot up to Rs 80 per kg across the country, today approved bids for import of 1,000 tonnes of onion at Rs 45 per kg and has decided to buy more from overseas markets to boost domestic supply.
It has also asked state-owned MMTC to float a fresh tender for import of 10,000 tonnes tomorrow.
A decision in this regard was taken at the meeting of the Price Stabilisation Fund Monitoring Committee headed by Agriculture Secretary Siraj Hussain.
Consumer Affairs Secretary C Viswanath, senior MMTC and SFAC officials were present.
"The committee has approved the offer for import of 1,000 tonnes of onion at US $685 per tonne (Rs 45/kg)," Agriculture Additional Secretary Avinash K Srivastava told reporters after the meeting.
MMTC, which last week had floated a tender for 10,000 tonnes of onion import, received only one bid from Singapore-based Cross Trade Line for 1,000 tonnes. This bid has been approved, he said.
The shipment of 1,000 tonnes will reach either Chennai or JNPT ports by September 10. The approved bidder has been asked to source onions from Egypt, China, Pakistan and other countries where the commodity is available, he added.
The imported onions would be supplied to state governments after seeking their requirements.
Stating more imports would be undertaken in coming weeks to check prices, Srivastava said, "It has been decided that MMTC will float tender after tender till onion situation comes under control. MMTC has been asked to float a fresh tender for import of 10,000 tonnes tomorrow."
The government has approved the tender at a time when the wholesale prices at Lasalgaon in Maharashtra, Asia's biggest onion market, have started declining for the last two days and are now down to Rs 48 per kg today due to improved supplies after several government measures such as curbs on exports and fear of action against hoarding.
It is believed that supply of imported onions would further boost supply and help bring down retail prices, which are still ruling as high as Rs 80 per kg across the country.
Onions are imported using the Price Stabilisation Fund under the Agriculture Ministry.
-PTI