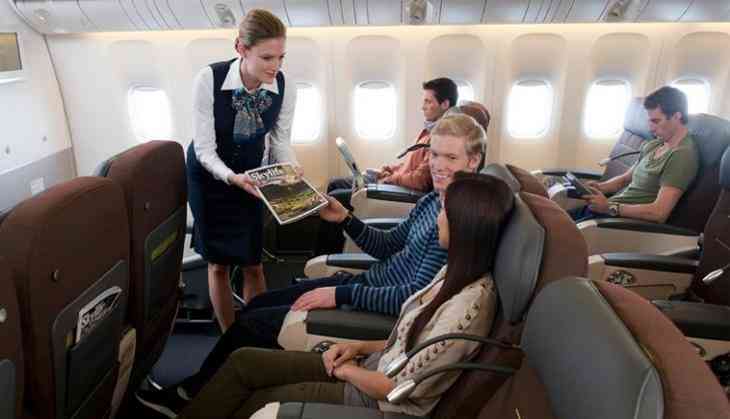 The telecom department is awaiting clarification from the shipping ministry over area to be covered in the sea for mobile services under In-flight connectivity service before releasing the final rules.
In-flight connectivity norms will also cover maritime transport.

"The DoT is in final stage of issuing In-flight connectivity rules. The shipping ministry has to clarify whether the coverage for mobile services in water vessels is to be provided till territorial waters or EEZ (exclusive economic zone)," an official source told PTI.
Territorial water extends up to 12 nautical miles (around 22 kilometers) from coastal line of the country, while EEZ of country covers up to 200 nautical miles.
"The framework will be issued as soon as the DoT receives clarification from the shipping ministry. It is expected to be completed very soon," the source said.
Telecom Commission - the highest policy making body of Department of Telecom (DoT) - on May 1 cleared the recommendation of the Telecom Regulatory Authority of India for allowing telecom services on flights and maritime transport under In-flight connectivity (IFC) rules. The service is now available in most of the developed markets.
Major airlines, including Air India and Vistara, have welcomed the governments decision, and Civil Aviation Minister Suresh Prabhu has said he will ensure "earliest implementation" of the proposal.
While mobile phone use will still be restricted during takeoff and landing, Telecom Commission has approved the lifting of a ban on the use of mobile phone and internet services at cruising altitudes.
Globally, many airlines are already offering wi-fi for passengers, but they currently have to switch off the facility when they enter the Indian airspace.
AirAsia, Air France, British Airways, Egypt Air, Emirates, Air New Zealand, Malaysia Airlines, Qatar Airways and Virgin Atlantic are among 30 airlines that are already allowing mobile phone use on aircraft.
A separate category of licencees - in-flight service providers - will be created for offering such services, and licence fee for such niche providers will be pegged at Re 1.
-PTI