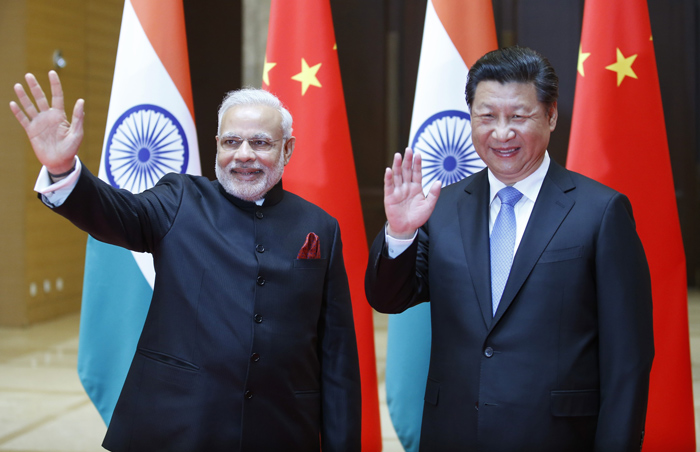 In a recent report, Chinese daily Global Times cast doubts over India\'s growth rate and GDP projections.
The report has called India\'s economic data \'manipulated\' and its growth as solely based on \'paper\' with no tangible results.
That India and China are Asian economic juggernauts trying to outdo each other is a well-known fact globally. From comparative economic data surveys, global forecasts by International Monetary Fund (IMF) over GDP growth for both Asian nations and border skirmishes over territorial claims, Sino-India relations are rather tumultuous.
So, when China's leading newspaper Global Times wrote a scathing piece on the Indian economy, its growth projections, and Prime Minister Narendra Modi, opinion took over facts and what we had was a rather one-sided hate-laden affair mired with jingoism.
Here's a look at what the piece stated:
Indeed, behind Prime Minister Narendra Modi is his management experience in Gujarat, but this doesn't prepare him to successfully govern a large country, nor can his manipulated economic data be used to prove the arrival of a "catch up with the US and surpass China" era.
India has reportedly changed the statistical method of GDP and other important economic indicators several times in order to moisten the data to make the government seem more credible.

In 2015, India's on-paper GDP growth rate of 74 per cent has exceeded that China's 6.9 per cent for the first time by the "creative" use of a new statistical method of GDP at market prices rather than at factor cost.

Furthermore, Modi's economic policy is also questionable. Currently, India is seeking an investment-oriented growth pattern. Modi's "recipe" is nothing more than efforts to attract investment, with the heat of capital to push development in India.

Indeed, the power of capital can really create the myth of prosperity, but it's presumed that it can also create a bubble trap in which lies the greatest risks for the future development.
Meanwhile, international Monetary Fund has the following projections for India and China:
World economy growth in 2016: 3.4 per cent
World economy growth in 2017: 3.6 per cent
China economy forecast for 2016: 6.3 per cent
China economy forecast for 2017: 6.0 per cent
Indian economy forecast for 2016: 7.3 per cent
Indian economy forecast for 2017: 7.5 per cent
Numerous economic experts have raised questions over China's methodology in calculating its own GDP. So, the Global Times opinion piece, instead of piecing together facts to present a much stronger case study, seems to be playing the economic 'supremacy' game between the Asian rivals.
Read the piece here