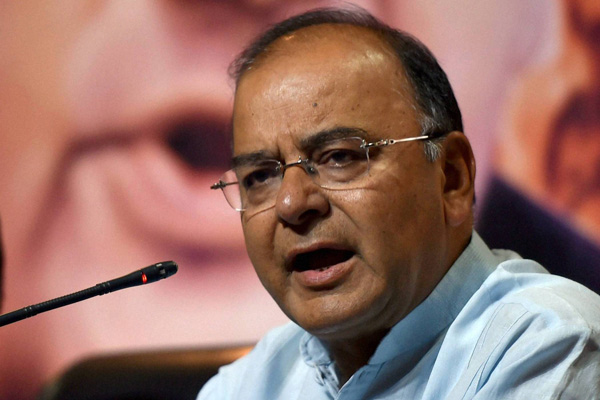 Finance Minister Arun Jaitley on Monday said GDP in the current fiscal will be better than the 7.3% growth rate recorded in the last financial year and improve further in subsequent years.
He said manufacturing sector recorded a "significant" growth of 9.3% in the September quarter despite an adverse global situation and hoped that private sector investments would pick up faster in coming quarters.
"I think the second quarter figures give us a sense of satisfaction... We expect growth this year to be better than last year and even better the next year," Jaitley said. He was responding to the GDP growth rate which came in at 7.4% for July-September, higher than 7% in the April-June quarter.
"And when manufacturing starts turning despite globally adverse circumstances, I think that's a very significant figure from our point of view," he said at the contract-signing event of the Indian Railways. Jaitley said the country has been facing a large number of domestic and global challenges, and slowly private investments have started to pick up.
"A slowdown of the global economy at least visibly impacts our exports, so that is one challenge we have. There is also private sector investment which has now started picking up... And I do hope in months to come that it picks up faster," he said.
Jaitley said foreign direct investment, particularly in greenfield projects, has grown and public investments too have gained traction. The data released by CSO today showed that manufacturing sector grew 9.3% in July-September as against 7.9% in the year-ago period. He said Indian economy has been able to clock reasonable levels of growth despite the "great adversity" of two successive years of below-par monsoon.
Meanwhile, Economic Affairs Secretary Shaktikanta Das tweeted that the second quarter GDP growth at 7.4% strengthens positive outlook for the current year. "7.5% for the year looks achievable," he said.
Manufacturing growth at 9.3% is an important growth driver, he said, adding "(we) will continue to work for bigger success of Make in India". Jaitley said the country can grow much faster if the government is able to stick to the reforms process.
He further said the second quarter numbers have been satisfactory "despite the fact that the global situation is adverse and the rain gods have not been very kind to us for two consecutive years, which is normally a rare thing to happen".
He said both the manufacturing and services figures appear to be encouraging. Jaitley further said the growth in indirect tax collection numbers has started getting reflected in the manufacturing sector growth.
"I think revenue collections have been good and the fact that we have been repeatedly saying is the indirect revenue collections are moving up. This has started reflecting now in manufacturing as this is the real data," he said.
-PTI