Status quo Rail Budget: No major trains or change in passenger fare structure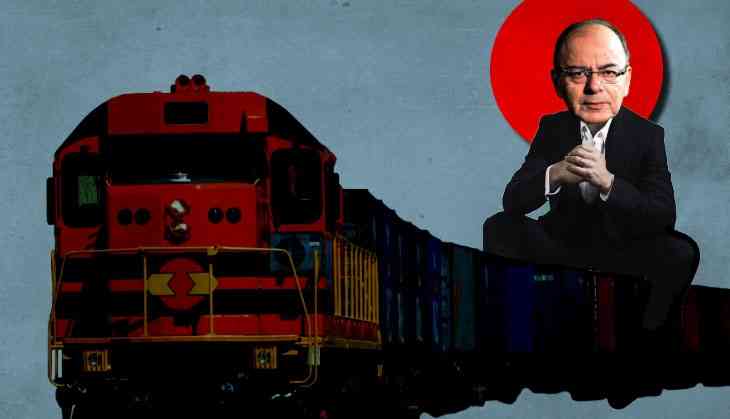 The Narendra Modi government's main focus in the railway sector in this Budget, seems to be on scaling up of investment in railway sector, strengthening of safety measures in train operation, capacity enhancement for carrying more passengers besides passenger comforts.
Announcing the total capital expenditure of Rs 1.48 lakh crore for the Railways in the General Budget, Finance Minister Arun Jaitley made provisions for modernisation of signaling system, replacement of old tracks and addition of new lines, route electrification, procurement of modern coaches, wagons and locos.
Jaitley also announced the expansion of suburban train service in Mumbai and Bangalore.
However as expected, no major new trains nor any change in the passenger fare structure were announced in the Budget.
While Rs 1.46 crore has been given as Capex, Rs 2,028 crore given towards reimbursement of operating losses on strategic lines and Rs 88 crore towards operational cost on e-ticketing with the total amount pegged at Rs 1,48,528 crore.
In the last Budget, the capital expenditure was Rs 1.31 lakh crore.
Redevelopment of 600 major railway stations, CCTV system and WI-FI in all stations and trains were announced in order to provide more amenties to passengers.
There will be escalators in all those stations where footalls are 25,000 per year, as per the budget announcement.
The focus of this year budget was on safety and passenger comfort beside capacity enhancement, said Railway Minister Piyush Goyal after the Budget presentation.
Enhancing carrying capacity of railways, 12,000 wagons, 5160 coaches and 700 locomotives are being procured in the next fiscal.
Giving highest priority to safety, the Budget envisaged a total expenditure of Rs 73,065 crore in 2018-19.
The safety enhancement measures include renewal of 3,900 km track and elimination of 4267 unmanned level crossings and introduction of modern signalling system.
Operating ratio of 2018-19 is estimated at 92.8 per cent as against 96 per cent in 2017-18.
Total Revenue receipts in 2018-19 are estimated to increase by 7 per cent to Rs 2,01,090 crore while total revenue expenditure is estimated to increase by 4 per cent to Rs 1,88,100 crore.
With the Mumbai-Ahmedabad bullet train project underway, Jaitley announced that the government would set up a specialised railway university in Vadodara to train railway personnel on high speed train system.
The Budget entails improved suburban services to Mumbai with 90 kms line doubling and 150 kms additional lines worth Rs 40,000 crore for enhancing transportation in Mumbai with expansion of suburban railway system.
For Bangalore, 160 km suburban network worth Rs 17,000 crore has been earmarked to help reduce congestion there and save commuting time of passengers.
These are the major components of total revenue expenditure of Rs 1,88,100 crore: In 2018-19, including Ordinary Working Expenses (Rs 1,38,000 crore), appropriation to DRF (Rs 500 crore) and appropriation to Pension Fund from Revenue (Rs 47,500 crore).
The freight earnings with estimated increase of 51 million tons (MT) in 2018-19 over 2017-18. 2017-18 has seen a reversal of the trend of low growth in freight loading over the previous 2 years. Incremental loading in April-January 2018 is 45 MT over the same period last year. There has been incremental loading of 6 MT in January itself.
Our aim is to transform Railways into a modern, safe, green, affordable and comfortable mode of transport, Goyal said.
The 92-year-old practice of a separate Railway budget was discontinued last year and was merged with the Union Budget.