Markets touch all-time high after BJP sweeps polls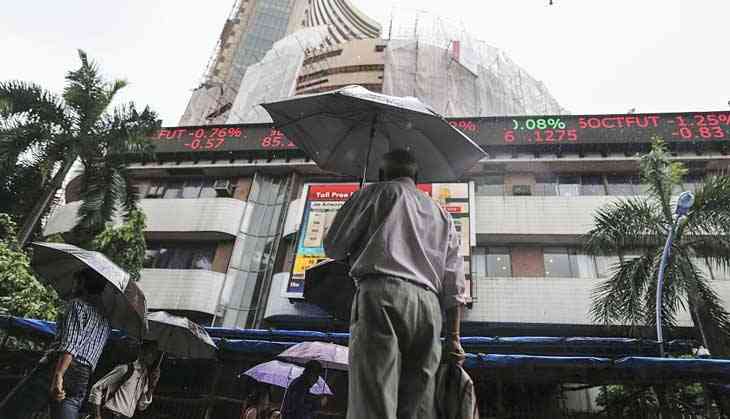 Indian equities market were at life-high on Tuesday, the first day of trading after the Bharatiya Janata Party scored a spectacular election victory in Uttar Pradesh.
The NSE Nifty touched 9122 points after two years, backed by a rally in three key stocks: Reliance Industries, Maruti Suzuki Ltd and HDFZC Bank Ltd.
Only a third of the stocks, however, were above the levels where they were when the market was at its previous high in March 2015.
However, the economic data (GDP growth of 7%) that is making India the fastest growing economy in the world, does not tell the true picture and therefore, an all-time high for NSE's Nifty is just a mirage.

The 9,122 that NSE's 50 stock index Nifty touched on Tuesday was higher than the 9,119 it touched on 4 March 2015. Some amount of profit booking forced Nifty to come down to the 9090 level, but it was still higher by 1.75% compared to Friday's close.

With this, Bank Nifty – benchmark index for the banking sector – also touched an all-time high.

Meanwhile, BSE's Sensex traded up by 615 points at 29,561, but remained lower than its all time high of 30,024.
However, this is just an index level that gives a glimpse into the sentiment of the market. At the moment, it is telling investors that it has reached an all-time high.
First, there are seven stocks in the Nifty which were part of the index when it reached all-time high back in March 2015. Now, they have been removed and have been replaced by other stocks. Of the remaining 43 stocks, only 14 are higher than their previous levels of 4 March 2015.
On the other hand, large cap firms like TCS, Infosys, ONGC with a combined weight of 15.8% in the Nifty have not yielded any gains between the two highs as all three stocks are down.
Outstanding large cap firms
The three large cap firms - Reliance Industries, Maruti Suzuki and HDFC Bank - have a combined weight of 15.37% in the Nifty index. Reliance has 6.70% weight in the index. When it goes up by 1%, the market goes up by 0.12%. In the present case, Reliance has moved up by 46.38%, contributing 508.89 points or 5.61% in the Nifty's rise. Maruti Suzuki with its 64.2% rise has contributed 3.4% or 304 points. Similarly, HDFC Bank has gained 32.4% between two highs and has contributed 309 points in Nifty's rise.

Poor credit growth, slowing demand and bad loans are three major factors that have hit the profitability of banks in India. However, the country's second-largest private sector lender HDFC Bank has managed a stellar show. Its performance in terms of bad loans, profit growth and net interest margin is still the best in the sector. While all other banking stocks have registered a decline during the period, the price of HDFC Bank share is up by 32.8%.

Maruti Suzuki is riding high on the revival of car demand and new product launches. From a decade low vehicle sales growth in 2013, Maruti is on a double-digit sales growth month after month. Even during the note-ban period, its sales grew faster than its peers. In last two years, Maruti's shares have recorded a phenomenal increase of 64.2%.

The third one is country's largest private sector firm Reliance Industries Ltd. With its business in refining and consumer retail shares traded in a range for almost seven years. The revenue and profitability of the company remained under pressure due to external factors. However, with the launch of revolutionary 4G telecom services, there is renewed buying in the stocks that has pushed its prices up by 46.3%.